Often when patients consult with Dr McCluskey about Rhinoplasty, asking what the recovery process will look like is high on their list of questions. While many patients know that they can expect swelling and bruising following Rhinoplasty, they often wonder to what extent that will be. One of Dr McCluskey's patients decided to document her recovery process for us and has kindly allowed us to share it for future patients to see! While recovery is a very different process for every patient, this patient's generosity allows us to give you an idea of what can be expected following a Rhinoplasty procedure.
Surgery Day
Here, before surgery, you can see our patient has been prepared for surgery by Dr McCluskey and is ready for her procedure.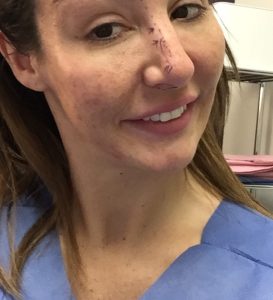 This next photo was taken the day of surgery as our patient began her recovery process. As you can see bruising has developed, which is completely normal following a Rhinoplasty procedure. A cast has been placed over the nose and will remain there during recovery until it is removed by Dr McCluskey, and some gauze padding has been placed below the nostrils to prevent any leaking from the nose.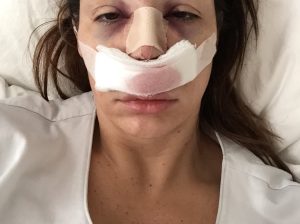 One Day After Surgery
The day after rhinoplasty surgery, swelling and bruising have become more evident but as you can see our patient was feeling good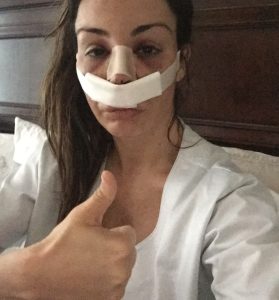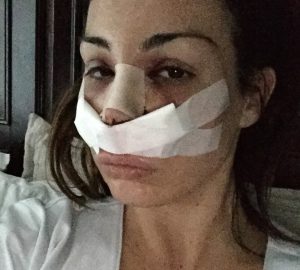 Five Days After Surgery
Bruising around the eyes reached it's peak at day five for this patient, swelling is still present and will be long in to any rhinoplasty patient's recovery. It is vital follow your surgeons instructions about replacing bandages during rhinoplasty recovery to ensure the best results from your surgery and to reduce the chance of infection. As you can see, while being sure to rest appropriately according to Dr McCluskey's instructions and not driving herself, this patient was out of the house, and feeling good just five days after surgery!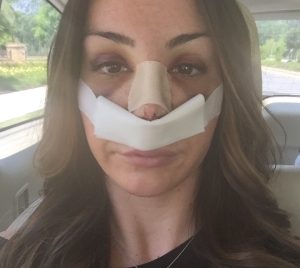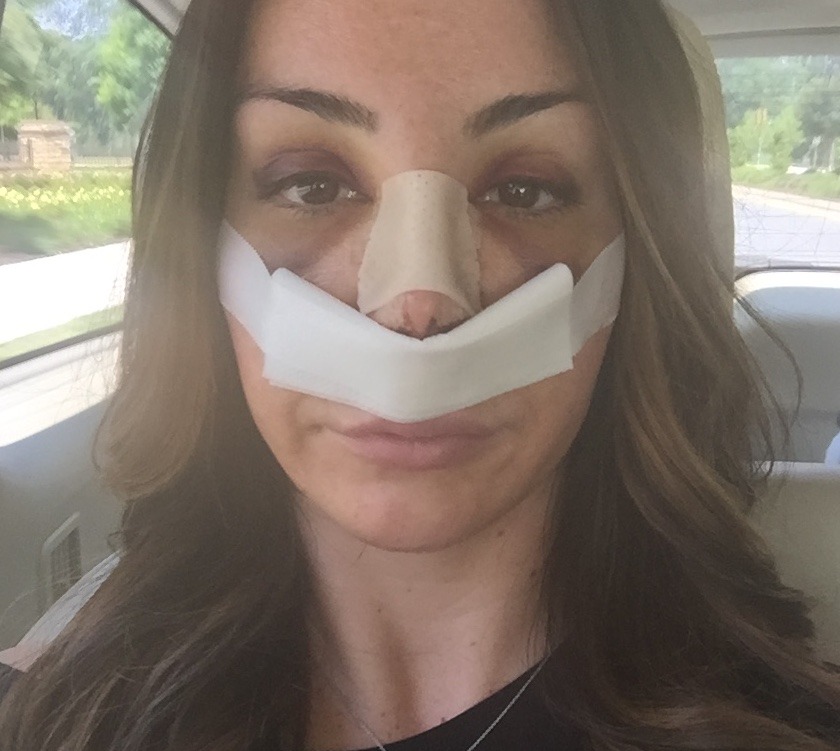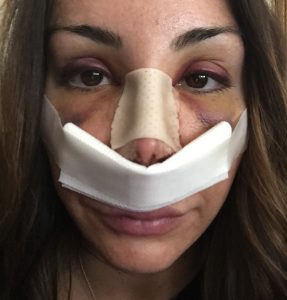 Seven Days After Surgery
Swelling is still evident on the patient after seven days but the bruising around her eyes has begun to subside. The cast that is placed on patient's nose following a rhinoplasty is important to aid the healing process and ensure the results are the best possible!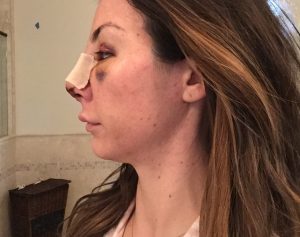 Ten Days After Surgery
Ten days after surgery we can see a huge improvement in bruising and swelling! This was also the day that this patient had her cast removed by Dr McCluskey, and while swelling will reduce much more before the patient has truly recovered we can begin to see what the patient's final result will be like.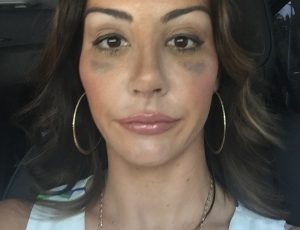 One Month After Surgery
One month after surgery our patient was back to her fabulous self and attending events all over Atlanta with out a hint of bruising. We are happy to report she loves the result of her Rhinoplasty at the Plastic Surgery Institute of Atlanta!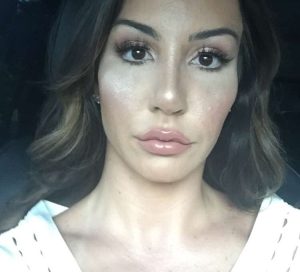 For more information about Rhinoplasty and other procedures offered by Dr Paul McCluskey at the Plastic Surgery Institute of Atlanta visit: