Options to Create a Strong Jaw Line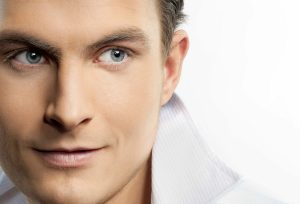 Weak chin or a poorly defined jaw line may occur in both men and women. In many people, genetic factors may be responsible for this condition. But the receding chin and weak jaw may become more pronounced with age. Chin implants are the most effective plastic surgery solution to correct this condition and create a stronger jaw line and a more substantive and proportionate chin.  
Plastic surgeon Dr. Paul McCluskey provides chin augmentation or mentoplasty to patients in Atlanta, Buckhead, Georgia, and surrounding communities.  
Recessive Chin and Weak Jawline 
When your chin is smaller in proportion to other parts of the face and seems to be sloping backward, you may have a weak jaw and recessive chin appearance. In men, it can affect the masculine appearance of the face, while in women it could make the nose appear disproportionately larger. 
Even a double chin appearance in men or women may sometimes be more than just excess fatty tissue pockets in the submental area (below the chin). A narrow or short chin, a less defined jaw line, and poor definition between the neck and chin may contribute to the effect of a double chin.  
How Chin Implants 
can
 Help?
Chin implant plastic surgery involves the surgical placement of biocompatible silicone implants that are customized to create the desired chin shape and size. This procedure can correct a weak jaw line and a receding chin, and offer the following benefits:  
Well-defined Jaw Line  
A receding chin can obscure a slender and elegant looking jaw line, resulting in the appearance of a rounder face. With the help of chin implants, your cosmetic surgeon can sculpt a stronger looking chin and refine the transition between the neck and the jaw.  
Restoration of Facial Balance  
When the chin is small or recessive, the side profile of your may look unbalanced, and other facial features (such as the nose) could appear more dominant in proportion to the face. With the insertion of chin implants, your plastic surgeon can create desirable proportions and restore facial balance.  
Reducing the Prominence of Nose  
When the chin looks undermined, the nose may look disproportionately bigger and conspicuous. While chin augmentation plastic surgery will not physically change the nose shape or size, it will create a relative effect. As your chin and jaw line becomes stronger, the nose will naturally start looking more subtle and blend in with the other facial features.   
Surgical Procedure 
To place the implants, your surgeon will make a small incision below your chin. A surgical pocket will be carved through the incision to accommodate the chin implants. Your surgeon will shape the implants to create a more natural looking chin and a defined jaw. The implants will be placed and adjusted into position, and finally the surgeon will close the incision with fine sutures. 
If excess fat tissue in the submental region is causing a double chin appearance, your surgeon may recommend a neck liposuction surgery in conjunction with chin implants to create a more refined outcome. Cosmetic surgeon Dr. Paul McCluskey receives patients from Atlanta, Buckhead, Georgia, and nearby areas for chin implant surgery.  
Contact Atlanta Plastic Surgeon Dr. Paul McCluskey for a Consultation
For more information on procedures and treatments offered by Plastic Surgeon, Dr. Paul McCluskey and the Plastic Surgery Institute of Atlanta, visit:
Serving patients in and around Atlanta, Buckhead, Morningside/Lenox Park, Virginia-Highland, Candler Park, Midtown, Inman Park, Poncey-Highland, Ormewood Park, Roswell, Marietta, Georgia and other surrounding areas.