RF Microneedling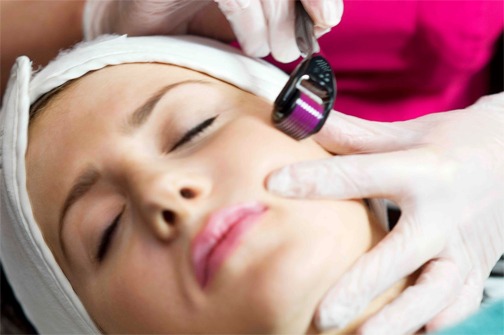 Radiofrequency (RF) based microneedling is a unique, non-surgical way of treating facial wrinkles. It reduces the fine lines that develop on the face with age and improves skin texture, making it smooth and even. Plastic surgeon Dr. Paul McCluskey provides RF microneedling to patients in Atlanta, Buckhead, Georgia, and surrounding locations. 
How Does RF Microneedling Work?
As the name indicates, RF microneedling involves the use of microneedles which are needles with a size that's tinier than a hair's diameter. These needles deliver energy in the safe radiofrequency range into the deep skin layers to reach the elastin and collagen fibers.  
The device emits energy of a polarity such that energy arcs are created between the microneedles. This delivers the energy deep into the skin and remodels the skin without any of the downtime required as with laser treatment.  
In RF microneedling, most of the energy reaches the mid-level dermis where the skin's collagen fibers are present. It brings about a restructuring of those areas that have been damaged and this restoration of the skin's collagen layer allows the topmost skin layer, the epidermis, to grow supple and even. 
How Soon do Results Appear After RF Microneedling Treatment?
RF microneedling involves rebuilding of damaged and old cells and this process takes time. Results will appear slowly and depend on your body's response to the radiofrequency energy. Generally, patients notice an improvement after about six to eight weeks after the first session.  
In most persons, three or more sessions are required to be able to see noticeable changes in skin texture. The number of sessions required is a customized plan and can be judged by an expert after they examine your facial profile.  
Safety Profile of RF Microneedling
RF microneedling is totally safe. The energy penetrates to the deeper skin layers, sparing the outermost layers. This avoids most of the side effects experienced with other skin treatments such as deep chemical peels or aggressive laser techniques.  
The tiny needles used in this treatment are insulated, adding an extra safety measure to protect the outer skin layer or the epidermis. As the epidermis is untouched in RF microneedling, the procedure is very safe even for those with darker skin. 
Suitability of RF Microneedling for Your Skin
RF microneedling lends itself to different treatment settings. This means physicians can customize the procedure to make it safe for all skin tones and types including persons with darker skin who are at higher risk for hyperpigmentation. In this aspect, RF microneedling is a safer option than laser treatment. This procedure works well on all skin tones and persons who have a tan do not have to wait for it fade to start their RF microneedling treatment.  
In-Office Procedure Using 
only
 Local Anesthesia
RF microneedling does not require general anesthesia. Most patients receive either a topical cream to numb the skin or a local anesthetic such as lidocaine. Although patients report feeling little discomfort, it is not difficult to tolerate. Cosmetic surgeon Dr. Paul McCluskey receives patients from Atlanta, Buckhead, Georgia, and nearby areas for RF microneedling.  
Contact Atlanta Plastic Surgeon Dr. Paul McCluskey for a Consultation
For more information on procedures and treatments offered by Plastic Surgeon, Dr. Paul McCluskey and the Plastic Surgery Institute of Atlanta, visit:
Serving patients in and around Atlanta, Buckhead, Morningside/Lenox Park, Virginia-Highland, Candler Park, Midtown, Inman Park, Poncey-Highland, Ormewood Park, Roswell, Marietta, Georgia and other surrounding areas.