Skin Care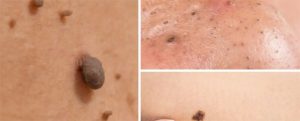 Abnormal or unsightly skin tags and moles can be removed using a minor outpatient treatment. The removal procedure may only involve the use of a local anesthetic without the need for sedation. It is never a judicious idea to ignore these minor skin growths or leave them untreated. Moles and skin tags may not only compromise your aesthetic appearance, but in a few cases, may also pose the risk of skin malignancy.  
You should work with a skilled cosmetic surgeon in order to get the unwanted moles and skin tags removed in a safe and effective manner. Precision is important in this procedure so that no unfavorable scarring occurs later on. Plastic surgeon Dr. Paul McCluskey provides mole and skin tag removal to patients in Atlanta, Buckhead, Georgia, and surrounding locations. 
Types of Moles and Skin Tags
Skin tags: These are very small skin growths that typically have small and narrow stalks. The color of a skin tag will often be similar to your natural skin color, but in a few cases, the skin tag may be darker. In general, tags will not cause you any pain or discomfort, except for cosmetic problems.  
Flat moles: If you have a dark spot or another minor skin irregularity, it could be termed as a flat mole. 
Raised moles: This is an elevated skin growth, which you may notice on your skin's surface. The raised moles often run deeper into the tissue layers. The color of these moles may be different from your natural skin color.  
In most cases, the moles and skin tags are benign in character, but in rare situations, the skin growth may turn malignant at some stage. If your mole or skin tags has changed in size, shape, or color, or is causing unexplained pain, bleeding, or itching, you should talk to your plastic surgeon for advice. 
Procedure to Remove Moles and Skin Tags
Mole and skin tag removal procedure is safe and simple, and may only involve minimal to no downtime. Excision surgery may be needed if the mole is deep because your surgeon will like to remove it from the root. The tiny wound created with this surgery will be closed with sutures.  
On the other hand, if the mole is superficial, your surgeon can simply shave it. Sutures will not be necessary in that case. The treated area will develop a scab after the shaving of the mole is completed. The new skin in that area may initially appear pink or reddish, and will blend with your skin color over time. For a few days after your mole or skin tag removal, you should avoid direct sun exposure to allow full healing to take place.  
Do not Remove the Mole at Home
It is best to avoid removing a mole or a skin tag at home by shaving it off. You may not know whether the mole is going deep into the dermal layers. Secondly, bleeding or infection risks are high when you attempt the mole or tag removal process yourself at home. Cosmetic surgeon Dr. Paul McCluskey receives patients from Atlanta, Buckhead, Georgia, and nearby areas for mole / skin tag removal treatment. 
Contact Atlanta Plastic Surgeon Dr. Paul McCluskey for a Consultation
For more information on procedures and treatments offered by Plastic Surgeon, Dr. Paul McCluskey and the Plastic Surgery Institute of Atlanta, visit:
Serving patients in and around Atlanta, Buckhead, Morningside/Lenox Park, Virginia-Highland, Candler Park, Midtown, Inman Park, Poncey-Highland, Ormewood Park, Roswell, Marietta, Georgia and other surrounding areas.