Sculptra Aesthetic Before And After Photos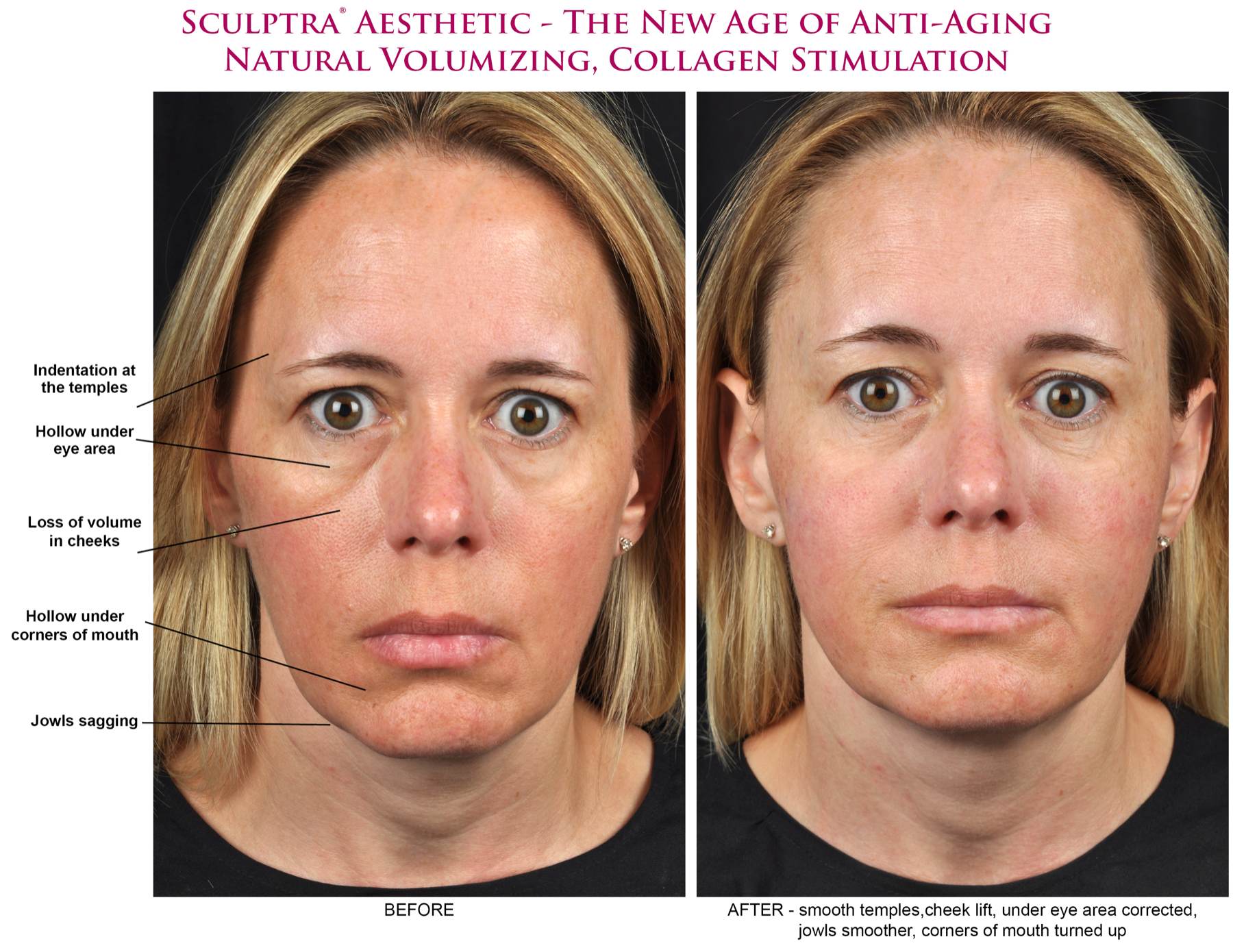 Sculptra Aesthetic is a proven, dependable, and effective injectable procedure for volumizing the depleted facial areas. It helps in restoring a rounder and fuller look. During initial consultation, the treatment provider will explain all factors related to the procedure. They will also show you Sculptra before and after images.
The primary concern of a responsible treatment provider is to educate patients about Sculptra Aesthetic in comparison with other alternatives so as to help them make an informed decision.
Plastic Surgery Institute of Atlanta, led by plastic surgeon Dr. Paul McCluskey, provides Sculptra Aesthetic facial filler injection treatments to patients in Atlanta, Marietta, Georgia, and surrounding communities.
What is Included in Sculptra Aesthetic Before and After Images?
Sculptra Aesthetic before and after images refers to a group or pair of images belonging to a previous patient that underwent the same soft tissue treatment with successful results. The images will include pictures taken before and after the treatment. There will be a few images taken once the complete benefits of Sculptra Aesthetic dermal filler have manifested.
Your treatment provider will show the images in a discreet manner after taking full consent of the patient. They will keep the patient's identity confidential as well. The only purpose behind this exercise is to help prospective patients understand the results and limitations of the procedure.
Now these images are not on the site, but we all know it does not take too long to update a website. This is just another reason why you have to ask to see these images during the consultation. In terms of the consultation, it's mandatory for a variety of reasons.
Advantages of Sculptra Aesthetic
Patients seeking to restore facial volume and reduce signs of aging have multiple options. Verbal explanations are limited by barriers of language. A few patients may only require limited treatment while others may need a full course of all three injections. The patient can make the best decisions when they are armed with Sculptra before and after photographs.
Creating Awareness Through Social Media
Diverse and broad ranged audience can be reached by treatment providers through social media. Publishing Sculptra Aesthetic before and after pictures can help hundreds and thousands of prospective patients understand the pros and cons of the procedure, including limitations.
Patients can understand the procedure in a better way when armed with before and after images. This is even before an initial consultation with the treatment provider is scheduled. Facebook, Pinterest, YouTube, and Instagram are a few digital platforms where Sculptra before and after images can help.
Setting Reasonable Expectations
Results of Sculptra Aesthetic are fairly significant. However, they are not comparable with facelift or facial fat transfer procedures. Patients that have a clear idea of what the procedure can do for them will have better satisfaction towards the end of the procedure. It is necessary for treatment providers to do everything possible for helping their patients set realistic expectations.
This is another reason why Dr. McCluskey is successful is because he believes in transparency. We may not see this in political circles that much but in the plastic surgery world it's vital and this clinic knows how vital it is to be straightforward with patients. Building trust is vital with all patients.
Sculptra Aesthetic 'before and after' images can be useful towards this endeavor. Patients that begin with reasonable expectations will appreciate final outcomes in a better manner. They also reduce the risk of disappointment later on when it may become impossible to reverse the effects of the procedure.
Cosmetic surgeon Dr. Paul McCluskey receives patients from Atlanta, Marietta, Georgia, and nearby areas for Sculptra soft tissue filler injectable treatments to correct loss of facial volume in certain areas of the face.
Contact Marietta, Georgia Plastic Surgeon Dr. Paul McCluskey at the Plastic Surgery
Institute

of Atlanta for a Consultation

For more information on procedures and treatments offered by Plastic Surgeon, Dr. Paul McCluskey and the Plastic Surgery Institute of Atlanta, visit:

Serving patients in and around Marietta, Atlanta, Roswell, Sandy Springs, Alpharetta, Buckhead, Morningside/Lenox Park, Virginia-Highland, Candler Park, Midtown, Inman Park, Poncey-Highland, Ormewood Park, Georgia and other surrounding areas.