Laser Hair Removal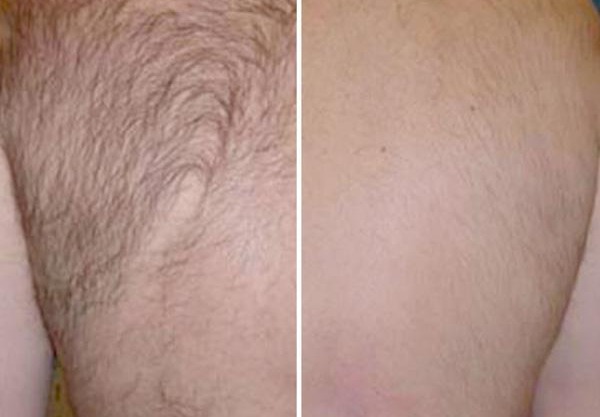 A hairy back is common among many men. However, women can have hairy backs too. Popular fashion standards can make people feel that their hairy back is unattractive or undesirable. In men, having hair on the chest, arms, and face is thought to be more attractive than having hair on the back.
This can place tremendous pressure on people with a hairy back. It's critical for you to understand that your opinion should matter the most since beauty lies in the eyes of the beholder. Having back hair can make you feel uncomfortable during the summer since it may increase body heat. However, it doesn't pose any health risk or other challenges.
There is no medical reason for you to remove back hair. But you may want to remove it for aesthetic and physical comfort reasons. Plastic surgeon Dr. Paul McCluskey provides laser hair removal for back hair to patients in Atlanta, Marietta, Georgia, and surrounding locations.
Genetic Cause of Excessive Hair in the Back
Genetics is considered to be the most common cause for hairy back in men. There are certain genes that can make a person more sensitive to testosterone, which can result in an increase in hair growth. This can cause hair on the back to grow thicker.
Other Causes of Hairy Back in Women
There are certain reasons that may make women grow hair on their backs (hirsutism) as well:
Hormonal imbalance
Cushing's syndrome
Medications
Adrenal gland disorders
Polycystic ovary syndrome
Back Hair Removal with Laser Technology
One of the latest innovations in reducing hair is the Spectrum Diode Laser. This technology emits laser beam on the skin for disrupting hair growth. Your hair follicles will get damaged which will curtail the growth of hair.
The diode laser has a built-in cooling system and a wavelength of 810nm. This is to ensure the treatment is safe and comfortable. The Spectrum Diode Laser is fast becoming a gold standard for hair removal. Patients usually notice results after a few short sessions.
What to Expect during the Treatment?
Your back will be cleansed before the treatment. The treatment provider may apply a numbing gel to make the process more comfortable. The gel usually takes about 30 to 60 minutes to start working. Your treatment will take place in a room that is specifically made for the purpose of laser therapy.
It's crucial for everybody in the room to wear protective eyewear during the treatment. Your skin will be held taut for the procedure. A lot of patients compare the laser pulses with the sensation of a rubber band being snapped against the skin. Others report that it feels like warm pinpricks.
Treatment Duration and Post-Op Recovery
Laser removes hair through vaporization which causes small smoke plumes that smell like sulfur. The duration of the treatment depends on the size of the body area being treated. The treatment session may take an hour or more if you are having your back or a large area treated.
The treatment usually involves little to no downtime. You can return to your normal routine the same day or the next day after the laser hair removal treatment session. Cosmetic surgeon Dr. Paul McCluskey receives patients from Atlanta, Marietta, Georgia, and nearby areas for laser hair removal for the back.
Contact Marietta, Georgia Plastic Surgeon Dr. Paul McCluskey at the Plastic Surgery
Institute

of Atlanta for a Consultation

For more information on procedures and treatments offered by Plastic Surgeon, Dr. Paul McCluskey and the Plastic Surgery Institute of Atlanta, visit:

Serving patients in and around Marietta, Atlanta, Roswell, Sandy Springs, Alpharetta, Buckhead, Morningside/Lenox Park, Virginia-Highland, Candler Park, Midtown, Inman Park, Poncey-Highland, Ormewood Park, Georgia and other surrounding areas.