Restylane Dermal Filler Before And After Photos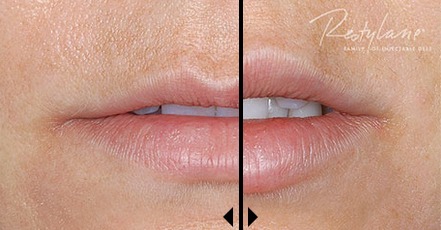 Restylane injections are a proven, safe, and predictable way of reducing facial signs of aging. This injectable treatment involves the use of tiny injections for administering Restylane in facial areas. Patients generally notice a marked reduction in fine lines and wrinkles. Restylane also helps in increasing volume in depleted facial areas.
Restylane 'before and after' images will be shown by your treatment provider during the initial consultation. This will be done for helping you understand the procedure better and develop realistic expectations.
Plastic Surgery Institute of Atlanta, led by plastic surgeon Dr. Paul McCluskey, provides Restylane facial filler injection treatments to patients in Atlanta, Marietta, Georgia, and surrounding communities.
Trust Pictures 
New patients are not at ease when it comes to getting a cosmetic procedure performed even if it is something straightforward as a dermal injectable. Treatment providers can instill trust and confidence in these patients by showing before and after pictures. Full effects of a procedure can be better understood by looking at its impact on past patients.
Patients can connect better with treatment providers after looking at the before and after images. These images also serve as conclusive proof for prospective patients that need convincing.
Evidence That Doesn't Lie
The true story is portrayed by Restylane before and after pictures in the best possible way. Whatever a treatment provider says can be misconstrued or interpreted incorrectly. Full gravity of the procedure may not be understood. Words can sound incredulous as well to cynical patients.
On the other hand, Restylane 'before and after' pictures are not limited by the barriers of language. They don't portray an exaggerated or an elaborate story. However, it is vital that treatment providers don't modify, photo-shop, or otherwise tweak images in any way. Now these images are not on the site as of now but we all know it does not take that long to upgrade a website with images.
For now, you will have to ask to see these images during the consultation which will be shown to you anyway because Dr. McClusky believes in transparency. He is not a politician – to be successful in this business which he is he knows that he has to build trust and rapport. There's not one patient that he takes for granted.
Publishing on Social Media
Restylane facial filler 'before and after' images can be posted by medical spas on social media forums for spreading awareness. Cosmetic treatment providers should post pictures on social forums discreetly so as to keep the patient information confidential. A large and vibrant group of people can be reached by treatment providers through social media postings.
These images can help prospective patients as well since they can attain clarity about a particular procedure even before the initial consultation. Restylane before and after pictures posted on Facebook, Pinterest, Instagram, and Twitter can provide patients with the confidence they need to pursue the treatment.
Setting Reasonable Expectations
Restylane injections are helpful in reducing facial lines and wrinkles significantly. However, it is important to understand that the procedure is noninvasive in nature. The results are not as dramatic as the ones after surgical facial rejuvenation procedures, such as face lift. It's vital for patients to understand what a procedure can and cannot do for them and this clinic will work overtime to make sure no one signs up for a treatment unless they full comprehend what they are signing up for.
It's better for everyone involved if they are on the same page. This practice would not have that many satisfied patients if they did not treat people well.
Patients should have reasonable expectations if they expect to be satisfied at the end of the treatment. This is where before and after images come in useful. Cosmetic surgeon Dr. Paul McCluskey receives patients from Atlanta, Marietta, Georgia, and nearby areas for Restylane soft tissue filler injectable treatments for wrinkle reduction and lip enhancement.
Contact Marietta, Georgia Plastic Surgeon Dr. Paul McCluskey at the Plastic Surgery
Institute

of Atlanta for a Consultation

For more information on procedures and treatments offered by Plastic Surgeon, Dr. Paul McCluskey and the Plastic Surgery Institute of Atlanta, visit:

Serving patients in and around Marietta, Atlanta, Roswell, Sandy Springs, Alpharetta, Buckhead, Morningside/Lenox Park, Virginia-Highland, Candler Park, Midtown, Inman Park, Poncey-Highland, Ormewood Park, Georgia and other surrounding areas.