Restylane Dermal Filler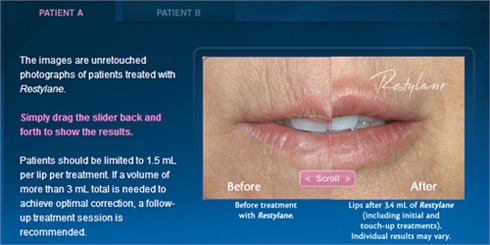 Restylane dermal injectable is a popular dermal filler treatment for reducing the signs of facial aging. This FDA approved injectable has been globally used for over a decade. Restylane dermal filler is cost effective as compared to other noninvasive and surgical alternatives for facial rejuvenation.
Restylane results can last for twice as long as compared to collagen based injectable options. In certain cases, Restylane results can last for up to 12 months making the treatment a relatively cost-effective option compared to similar other injectable procedures.
During the pre-treatment consultation, your injection provider will explain all factors involved in the Restylane treatment, including estimated costs. Dedicated treatment providers would do everything possible for ensuring that you understand the pros and cons of Restylane injectable for making a well-thought of decision.
Plastic Surgery Institute of Atlanta, led by plastic surgeon Dr. Paul McCluskey, provides Restylane facial filler injection treatments to patients in Atlanta, Marietta, Georgia, and surrounding locations.
Cost Factors Related to Restylane
There are several factors that can make the cost of Restylane vary between two different practices.
Practice Location
Cost of living of a region is affected by multiple things, such as real estate, local taxation laws, and average household income. Treatment providers in busy metropolitan centers and main urban centers incur higher operation costs as compared to the practices located in remote and interior locations.
Quality Standards
Treatment providers that are equipped with latest advancements in technology and facilities have a better chance of providing satisfaction. This is because they have better qualified and experienced staff that can provide individualized care.
However, these treatment providers may charge marginally more as opposed to certain med spas that don't follow strict standards of care. It is recommended that you get your treatment done by a responsible and reputable injection provider.
Extent of Treatment
Number of injections and treatment sessions play a major role in determining the overall cost of the Restylane injection procedure. Complete benefits of the procedure can be attained from a single injection in some cases while others may require more sessions.
In any case, touch-up sessions are necessary every 6 – 12 months for maintaining results. Your treatment provider may recommend Restylane along with Botox or another dermal filler gel for better results. This will increase the monetary amount of the overall treatment.
Other Factors
Manufacturer of dermal fillers tend to offer special discounts during certain parts of the year. The med spa may have an ongoing offer as well where they provide special discounted rates. You can always ask for special package rates if you are considering multiple procedures at the same treatment provider.
Insurance and Financing Options
Restylane is an elective aesthetic procedure and is not covered by regular healthcare plans generally. There are several financing options available for patients that don't want to make an upfront payment. You can always seek a loan from professional medical care finance companies at competitive rates and attractive terms.
Cosmetic surgeon Dr. Paul McCluskey receives patients from Atlanta, Marietta, Georgia, and nearby areas for Restylane soft tissue filler injectable treatments for wrinkle reduction and lip enhancement.
Contact Marietta, Georgia Plastic Surgeon Dr. Paul McCluskey at the Plastic Surgery
Institute

of Atlanta for a Consultation

For more information on procedures and treatments offered by Plastic Surgeon, Dr. Paul McCluskey and the Plastic Surgery Institute of Atlanta, visit:

Serving patients in and around Marietta, Atlanta, Roswell, Sandy Springs, Alpharetta, Buckhead, Morningside/Lenox Park, Virginia-Highland, Candler Park, Midtown, Inman Park, Poncey-Highland, Ormewood Park, Georgia and other surrounding areas.