See RF Microneedling Before And After Photos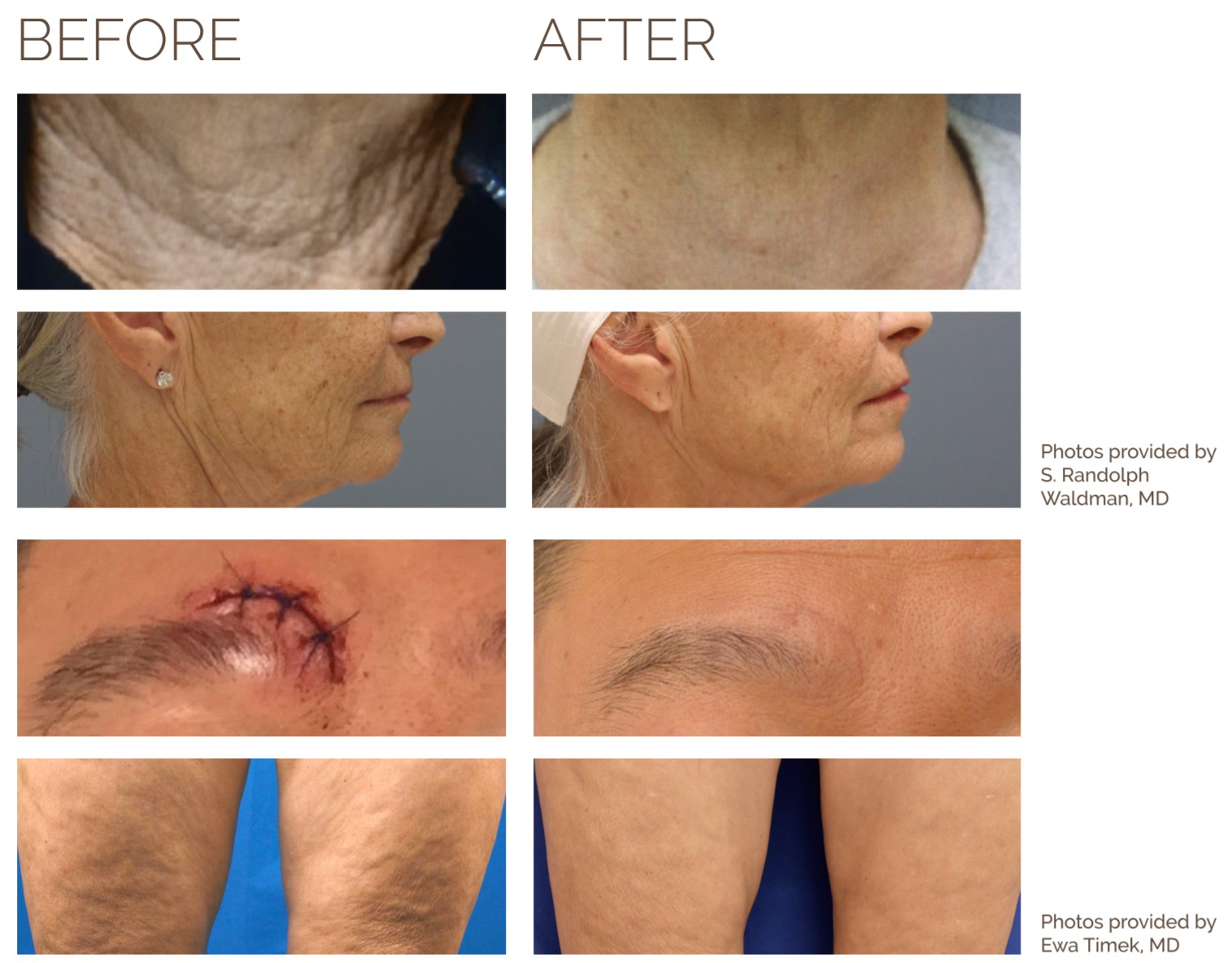 Skin imperfections such as acne scars, wrinkles, fine lines, and sun spots respond well to RF microneedling treatment. This technique also improves the penetration of products used to rejuvenate the skin to give you skin that appears younger and more beautiful.  
When you consult a RF microneedling treatment provider, ask for information about the procedure. Understand the advantages and challenges of this treatment to decide if it is a good choice for your skin condition. Take a look at the before and after pictures of patients who have undergone microneedling.  
Plastic surgeon Dr. Paul McCluskey provides RF microneedling to patients in Atlanta, Buckhead, Georgia, and surrounding locations.  
What are RF microneedling before and after pictures?
RF microneedling treatment providers will take pictures of a patient's affected skin before the procedure, at several stages during the treatment and also after the completion of treatment. By looking at such before and after pictures, it is possible to evaluate the final outcome of RF microneedling.  
The RF microneedling 'before and after' pictures are always taken only with a patient's consent for the purpose of showing them to prospective patients. These pictures are handled confidentially and their only purpose is to highlight the results achieved through the procedure.  
Why You Should Ask for RF Microneedling Before and After Pictures
RF microneedling is an advanced treatment method and you may be worried about its ability to improve your skin. Some patients find it difficult to decide whether they must choose a minor treatment or require more extensive skin rejuvenation procedures. Much of the confusion in making such choices can be eliminated by looking through RF microneedling before and after pictures.  
A study of such before and after pictures also helps patients understand what type of an outcome to expect. This means you have realistic expectations from the treatment and don't end up disappointed when you see the final results.  
Your RF microneedling expert may try to explain in detail what changes you can expect. Because words mean different things to different people, you may not catch the exact meaning of what is being conveyed. As the adage goes, "A picture is worth a thousand words," and looking at microneedling before and after photographs can give you an accurate idea of the results of the procedure.  
For this particular website microneedling before and after images are not present which means you should ask to see these images during the consultation which is critical anyway. In addition, these images can be uploaded on the site at any time. What's amazing about digital images is that they tell such an amazing story because of the clarity that a patient can almost predict the future when looking at this digital image/s.  
Where to find before and after pictures?
Many RF microneedling providers present the before and after images on their websites or their Instagram pages. Look through these pictures online to decide which service provider to consult. Some providers use the pictures in the form of slideshows and Instagram Stories to make them more effective.  
When looking through RF microneedling before and after photos, make sure you review pictures that closely resemble your skin condition. Also, be aware of the fact that it is possible to modify or photoshop pictures before posting them online. You need to work with a trusted surgeon for any cosmetic procedure in order to receive authentic medical advice. 
When you consult the microneedling treatment provider, ask to see the prints of the before and after photos. Cosmetic surgeon Dr. Paul McCluskey receives patients from Atlanta, Buckhead, Georgia, and nearby areas for RF microneedling.   
Contact Atlanta Plastic Surgeon Dr. Paul McCluskey for a Consultation
For more information on procedures and treatments offered by Plastic Surgeon, Dr. Paul McCluskey and the Plastic Surgery Institute of Atlanta, visit:
Serving patients in and around Atlanta, Buckhead, Morningside/Lenox Park, Virginia-Highland, Candler Park, Midtown, Inman Park, Poncey-Highland, Ormewood Park, Roswell, Marietta, Georgia and other surrounding areas.