Nipple
Reduction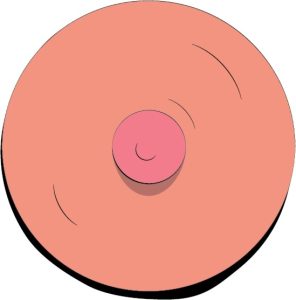 Large size of the areolas and nipples is a common concern for many women. If the size of areola and nipple is disproportionately large, it will adversely affect the cosmetic appearance of the breast. Nipple and areola reduction plastic surgery can address this concern and restore harmony to your breast appearance.  
Plastic surgeon Dr. Paul McCluskey provides nipple and areola reduction surgery to patients in Atlanta, Buckhead, Georgia, and surrounding communities.  
How does Areola or Nipple Enlargement Occur?
Nipple or areola enlargement may occur as a birth defect, but it is usually seen after breastfeeding. Pregnancy and nursing can sometimes significantly alter the proportion and cosmetic look of the breast. If your breast size is normal, but the areolas and nipples are oversized, it can distract from the overall breast aesthetic.  
In many cases, areola or nipple enlargement may also occur due to aging effects as the skin in the area becomes loose and stretched. The reduction surgery must be performed skillfully to minimize the subsequent scarring.  
Nipple and Areola Reduction Surgery
It is possible correct the size and shape of the areolas and nipples to make them more proportionate to the overall breast size. Your cosmetic surgeon can improve the symmetry and balance between the nipples at the same time. Both women and men may be candidates for this procedure, if they feel self-conscious about their enlarged areolas and nipples. 
The cosmetic surgery is typically performed as an outpatient procedure. It involves only local anesthesia in most cases, unless it is combined with a major procedure such as breast reduction, breast lift, or breast implants surgery.  
Following anesthesia, your surgeon will create a short incision within the nipple (in case of nipple reduction). Through the incision, they will create a narrower circumference or shorten the nipple. In some cases, breast tissue from beneath the nipple may also be removed using the same incision to create more enhanced appearance.  
If areolas need to be corrected along with a nipple, your cosmetic surgeon will make an additional donut-shaped incision around the areola to remove the excess skin in-between. Thereafter, they will connect the inner and outer ring through circular incision suturing. The sutures will be placed precisely around the darker areola border lines so that any subsequent scarring remains hidden.  
Candidacy for Areola and Nipple Reduction 
If you are bothered by some of the following issues, your plastic surgeon may recommend areola and nipple reduction surgery for you: 
Excessively large areolas

 

Enlarged nipples or droopy nipples 

 
Change in the shape of areolas or nipples following breastfeeding

 

Poor aesthetic outcome from an earlier breast surgery

 

Oversized areolas or nipples by birth 

 
Post-Surgical Recovery 
Recovery after areola and nipple reduction plastic surgery is fairly quick, involving a downtime of just two to three days. Although minor bruising and swelling may occur, you can manage the initial discomfort with mild pain medications. Cosmetic surgeon Dr. Paul McCluskey receives patients from Atlanta, Buckhead, Georgia, and nearby areas for nipple and areola reduction surgery.  
Contact Atlanta Plastic Surgeon Dr. Paul McCluskey for a Consultation
For more information on procedures and treatments offered by Plastic Surgeon, Dr. Paul McCluskey and the Plastic Surgery Institute of Atlanta, visit:
Serving patients in and around Atlanta, Buckhead, Morningside/Lenox Park, Virginia-Highland, Candler Park, Midtown, Inman Park, Poncey-Highland, Ormewood Park, Roswell, Marietta, Georgia and other surrounding areas.