Laser Hair Removal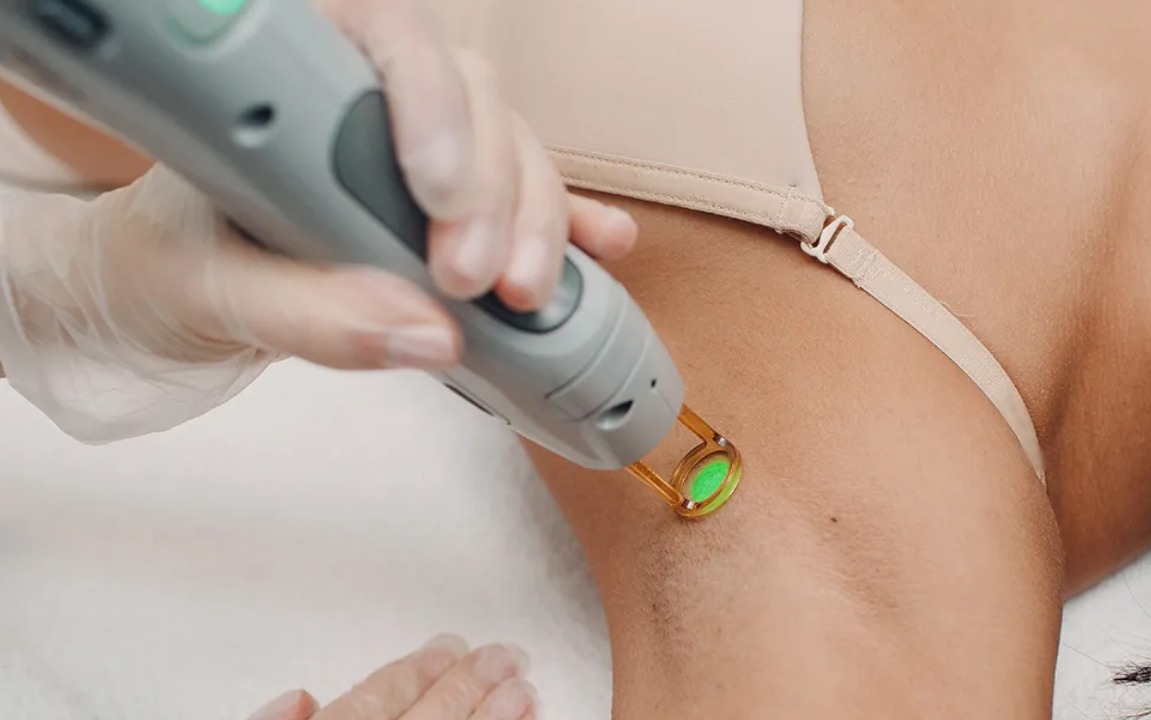 You may consider armpit laser hair removal if you are looking for a more long-term alternative to waxing your underarm hair or shaving it. Laser treatment works by destroying hair follicles for several weeks. This means that new hair cannot be produced easily, and the results may be fairly long lasting.
Plastic surgeon Dr. Paul McCluskey provides laser hair removal treatment for the underarm hair to patients in Atlanta, Marietta, Georgia, and surrounding locations.
Advantages of Underarm Laser Hair Removal
Laser hair removal damages the hair follicles unlike waxing or shaving. This is so that no new hair is produced. This results in fewer and less noticeable hair for a longer duration.
Potential advantages of this procedure are:
Hair that grows lighter in color
Fewer underarm hair
Less coarse texture of hair
Overall slower hair growth
Duration of Results
You may notice fewer or finer hair following the laser hair removal procedure. Overall, it may take 3 – 4 sessions for achieving the desired results in armpit hair reduction. This is because of individual hair growth.
You must keep in mind that laser hair removal may be marketed as permanent, but you would still require follow-up treatments for maintaining smooth underarms. Majority of patients require maintenance treatment every 6 – 12 months or whenever their hair regrows.
Permanent Armpit Hair Removal
The following two steps are used in armpit laser hair removal procedure:
The professional will apply a mild anesthetic cream (if needed) after cleaning the treatment area. You would also be given protective eyewear for the rest of the session.
The treatment provider will next place a device containing light beam on the armpit area. The light will heat up the hair follicle and cause damage. This will prevent the follicles from producing new hair as normal. The process can be completed in a few minutes.
The professional may apply spray or cooling gel on the underarms for minimizing pain and other side effects. You should be able to return home the same day of the procedure. The treatment provider may apply cool compress or ice packs on the underarm region if required.
Best Laser for Underarm Hair
Laser hair removal can be done by various lasers. The most appropriate laser device will be chosen based on the following:
Safety and effectiveness
Hair thickness
Skin color
Hair color
It is important to work with a professional with experience in laser hair treatments.
Laser Hair Removal Mechanism
The Spectrum Diode Laser device is a recent innovation in hair removal and reduction. It emits a laser beam on the skin that disrupts hair growth. Hair cannot regrow since laser damages the hair follicles. The diode laser has an inbuilt cooling system and a laser wavelength of 810nm. This device has become the gold standard for removing hair in patients.
You should be able to see results in a few quick sessions. You may require 5 or more sessions every 6 – 10 weeks for desired results. Cosmetic surgeon Dr. Paul McCluskey receives patients from Atlanta, Marietta, Georgia, and nearby areas for laser hair removal treatment for the underarm hair.
Contact Marietta, Georgia Plastic Surgeon Dr. Paul McCluskey at the Plastic Surgery
Institute

of Atlanta for a Consultation

For more information on procedures and treatments offered by Plastic Surgeon, Dr. Paul McCluskey and the Plastic Surgery Institute of Atlanta, visit:

Serving patients in and around Marietta, Atlanta, Roswell, Sandy Springs, Alpharetta, Buckhead, Morningside/Lenox Park, Virginia-Highland, Candler Park, Midtown, Inman Park, Poncey-Highland, Ormewood Park, Georgia and other surrounding areas.