Chemical Peel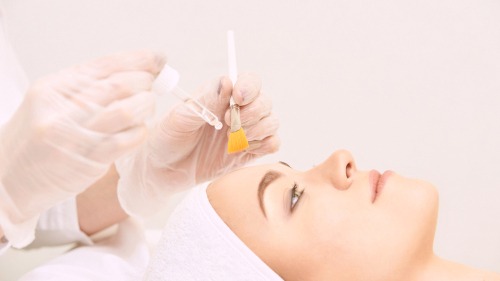 Chemical peels work on the epidermis and the dermis. Epidermis is the outer layer of the skin that is visible to the eye. Dermis is right under the epidermis and contains sweat glands, nerve endings, and hair follicles.
Chemical peels are designed to remove a controlled amount of skin cells from the epidermal layer. However, stronger peels may target the deeper dermis layers as well. Plastic surgeon Dr. Paul McCluskey provides chemical peel treatments to patients in Atlanta, Marietta, Georgia, and surrounding communities.
What to Expect during the Treatment?
The most superficial chemical peel may cause a tingling sensation on the skin. However, the mild discomfort will subside once the peel solution gets neutralized. Deeper peels may need the application of numbing gel. Generally, skins that are accustomed to tolerating acids will tolerate stronger formulations.
Superficial peels may produce slight redness, similar to a mild sunburn. This may last for 3 – 5 days. However, more intense deep and medium peels may cause swelling, blistering, and noticeable redness. Your skin may continue peeling for 7 – 14 days. Deep chemical peels usually need bandages and painkillers for managing discomfort.
The skin becomes photosensitive immediately following a chemical peel. It is necessary that a broad-spectrum sunscreen be used following the treatment. You should minimize sun exposure as well.
Post-Treatment Experience
The treatment provider will use a cool saline compress for removing any exfoliant on the skin following the chemical peel. They may recommend applying unscented emollient or weak vinegar solution to the face for helping the skin heal following the treatment.
Deep peels can cause peeling and swelling which may take anywhere from 1 – 2 days to weeks to heal. You should not use any face wash or wet the face the first 24 hours. You should not use any makeup either until the skin has healed.
This is what you can expect with different peels:
Superficial Peels
Superficial peels don't penetrate the deeper layers of the skin. They don't carry the same risk of side effects as deep chemical peels. Also, the skin recovers more quickly in case of superficial peels. It may take 1 – 7 days for the skin to heal following superficial peels. You should wear sunscreen at all times during the healing phase.
Medium-Depth Peels
These peels can take anywhere from 7 to 14 days to heal. They usually cause swelling which is at its worst the first 48 hours of the treatment. Some patients experience blisters as well. Your doctor may prescribe an antiviral medication for 10 to 14 days. You can wear makeup after 5 to 7 days. However, you should avoid sun exposure until the skin heals completely.
Deep Peels
Deep peels can take anywhere from 14 to 21 days to heal. You should be prepared for:
Recuperating at home
Taking antiviral medications for 10 – 14 days
Washing the skin 4 – 6 times a day with a special solution
Applying ointment for the first 14 days
Avoiding makeup for two weeks
Avoiding sun exposure for 3 – 6 months
Cosmetic surgeon Dr. Paul McCluskey receives patients from Atlanta, Marietta, Georgia, and nearby areas for safe and proven chemical treatments for non-surgical facial rejuvenation.
Contact Marietta, Georgia Plastic Surgeon Dr. Paul McCluskey at the Plastic Surgery
Institute

of Atlanta for a Consultation

For more information on procedures and treatments offered by Plastic Surgeon, Dr. Paul McCluskey and the Plastic Surgery Institute of Atlanta, visit:

Serving patients in and around Marietta, Atlanta, Roswell, Sandy Springs, Alpharetta, Buckhead, Morningside/Lenox Park, Virginia-Highland, Candler Park, Midtown, Inman Park, Poncey-Highland, Ormewood Park, Georgia and other surrounding areas.