Laser Hair Removal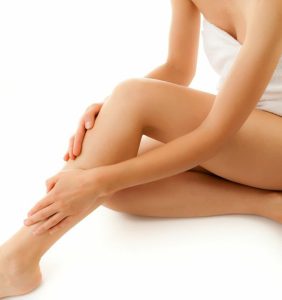 Many women find shaving, waxing, lotions, and other traditional methods to be time consuming and ineffective when it comes to removing unwanted body hair. Therefore, treatment providers now increasingly recommend laser hair removal as a proven procedure for safe and long-lasting results.
Your cosmetic surgeon may recommend this treatment if you are seeking permanent freedom from unsightly body hair with excellent results. Laser hair removal is a time-tested in-office treatment that involves the use of cutting-edge laser technology to allow women as well as men to enjoy hairless skin for longer time periods.
Your provider may be able to remove hair from virtually any area of the body with laser hair removal. Undesirable hairs are targeted precisely for removal with very little downtime or discomfort. During your initial consultation, you should ask your provider to show you laser hair removal before and after pictures of previous patients to set realistic expectations and make a well-informed choice.
Plastic surgeon Dr. Paul McCluskey provides laser hair removal to patients in Atlanta, Buckhead, Georgia, and surrounding communities.
What Do Laser Hair Removal Before and After Images Mean?
Laser hair removal 'before and after' photographs are a simple visual tool for understanding the treatment and the kind of results you can expect. Your treatment provider will present before you several sets of before and after images related to past patients that went through the same procedure. You may request the provider to show you images of same treatment areas as you want, like back, face, underarms, bikini line, thighs, and others.
Your laser expert will show you images that are taken before the procedure and just after the procedure. They will also show you images taken after a few days when complete results have appeared. However, it is important that your treatment provider shows the pictures only after obtaining the patient's consent. The images will be presented in a discreet manner.
Benefits of Laser Hair Removal Before and After Photos
You may be unsure about the procedure or its potential results even after hearing about it from your treatment provider. Words can only do so much in convincing you sometimes. But pictures can be more effective where words fail to do the job. You can estimate from the images the kind of results your laser hair treatment can provide.
It is not possible for everyone to achieve the same kind of results. But by looking at laser hair removal before and after pictures, you can get a fair idea of what to expect. Reviewing these images can help you make a well-informed and realistic decision. Now this website does not have these particular images on it right now but that does not mean they cannot be uploaded at any time. The consultation is paramount anyway so during this meeting you should ask to see before and after images that are digital in nature.
The clarity of digital images is second to none.
Forming Reasonable Expectations
When undergoing a cosmetic procedure, you should have reasonable expectations because the final outcome is never going be exactly as you may visualize beforehand. Laser hair removal outcomes are usually more natural looking instead of being obvious or artificial.
Laser hair removal before and after pictures can help you tone down your expectations if you thought otherwise. These images are shown during the initial consultation for patients to develop realistic expectations and attain more satisfaction from their end results. Dr. McCluskey's expertise in this field is proven and he has a long list of satisfied patients; he knows that being transparent is critical.
Images on Social Media
Laser hair removal photos are often posted on popular social media platforms to increase awareness. You can view these images before consulting with your laser treatment provider. Cosmetic surgeon Dr. Paul McCluskey receives patients from Atlanta, Buckhead, Georgia, and nearby areas for laser hair removal.
Contact Marietta, Georgia Plastic Surgeon Dr. Paul McCluskey for a Consultation
For more information on procedures and treatments offered by Plastic Surgeon, Dr. Paul McCluskey and the Plastic Surgery Institute of Atlanta, visit:
Serving patients in and around Marietta, Atlanta, Roswell, Buckhead, Morningside/Lenox Park, Virginia-Highland, Candler Park, Midtown, Inman Park, Poncey-Highland, Ormewood Park, Georgia and other surrounding areas.