Wrinkle Reduction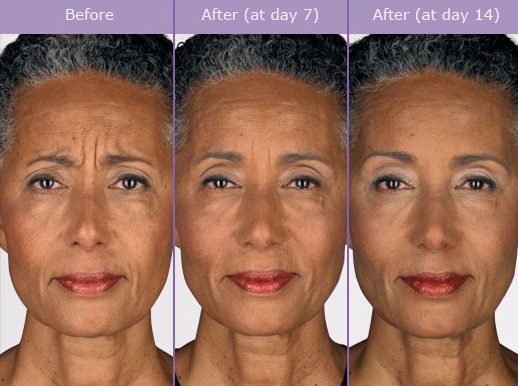 Botulinum toxin injection for treating facial wrinkles is among the most frequently performed procedures in the US today. Botox treatment for crow's feet, frown lines, and horizontal forehead lines has few adverse effects and offers predictable results. It is also associated with higher patient satisfaction.
At the time of your pre-op consultation, your surgeon will explain to you the advantages and limitations of Botox in comparison to other surgical and non-surgical procedures. Plastic surgeon Dr. Paul McCluskey provides Botox injectable treatment to patients in Atlanta, Marietta, Georgia, and surrounding locations.
How Does the Treatment Work?
Botox is a form of powerful neurotoxin. This substance directly targets the nervous system by disrupting the nerve signaling process. This induces muscle contraction and temporary muscle paralysis. Nerves will release a chemical messenger known as acetylcholine, which will make the muscles contract.
The compound is released at the junction where muscle cells meet nerve endings. Acetylcholine causes cells to shorten and contract by attaching to the receptors on the muscle cells. Botox injections go a long way in preventing the release of acetylcholine. This prevents the muscle cells from contracting or becoming stiff.
Cosmetic Uses of Botox
Botox is primarily used for reducing facial wrinkles appearance. Botox injections, as per the American Board of Cosmetic Surgery, are among the most popular procedures in the country. Over 7 million people in 2016 got Botox treatments. However, the effects tend to last 3 – 12 months depending on the amount of Botox used.
Following facial areas are usually addressed by Botox injections:
Crow's feet
Elevens, frown lines or glabellar lines
Horizontal forehead creases
Cobblestone skin
Mouth corners
You should know that the FDA has only approved Botox for use around the forehead and the eyes.
Benefits of Botox
Botox injections directly target facial muscles to prevent them from deepening existing wrinkles or forming new ones. Several injections are used for the best possible results at the target area. Botox can resolve crow's feet. it can also be used for eliminating frown lines and wrinkles.
You should know that Botox is not a permanent treatment. This is because the body absorbs the compound gradually and eliminates it. All Botox results eventually fade away after a few months. You can maintain your look for a longer period of time with regular maintenance injections.
Botox only works on the lines caused by muscle movement. However, not all wrinkles are dynamic in nature. Furrows and deeper lines caused by loss of facial volume cannot be addressed by Botox injections. Dermal fillers are used for filling in these wrinkles and scars.
Customizable In-Office Procedure
Early signs of facial aging can be minimized in both men and women using a combination of dermal fillers and Botox. Several cosmetic procedures can be easily combined with Botox. This includes facelifts and eyelid surgeries. Your injector will carefully administer the injections at the treatment site after determining the muscle groups causing your dynamic wrinkles. The entire procedure doesn't take more than 15 minutes with results lasting for several months.
Cosmetic surgeon Dr. Paul McCluskey receives patients from Atlanta, Marietta, Georgia, and nearby areas for Botox anti-wrinkle facial rejuvenation treatment.
Contact Marietta, Georgia Plastic Surgeon Dr. Paul McCluskey at the Plastic Surgery
Institute

of Atlanta for a Consultation

For more information on procedures and treatments offered by Plastic Surgeon, Dr. Paul McCluskey and the Plastic Surgery Institute of Atlanta, visit:

Serving patients in and around Marietta, Atlanta, Roswell, Sandy Springs, Alpharetta, Buckhead, Morningside/Lenox Park, Virginia-Highland, Candler Park, Midtown, Inman Park, Poncey-Highland, Ormewood Park, Georgia and other surrounding areas.