Restylane Dermal Filler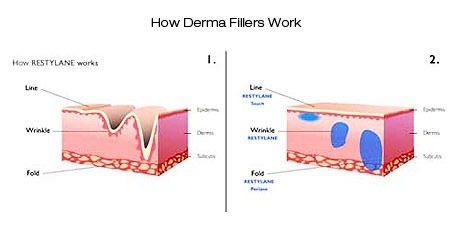 Restylane is a non-invasive dermal filler gel developed from NASHA or non-animal stabilized hyaluronic acid. This is a popular dermal filler injectable that doesn't contain any animal products and is available in gel form. Hyaluronic acid or HA is the main component in this injectable. This compound naturally occurs in the human tissue and skin.
You don't need to undergo any prior expensive allergy tests for using this dermal filler injectable. Plastic Surgery Institute of Atlanta, led by plastic surgeon Dr. Paul McCluskey, provides Restylane facial filler injection treatments to patients in Atlanta, Marietta, Georgia, and surrounding communities.
Benefits of Restylane
Natural hyaluronic acid in the human body plays a major role in keeping the skin youthful and firm. Age and other factors can cause HA reserves to deplete over time. Restylane injectables can be used by surgeons for revitalizing the facial skin and restoring volume loss.
Restylane can be effectively used in cosmetic treatments, such as lip augmentation and facial contouring. Fine lines and wrinkles around the eyebrows, nasolabial area, and forehead can also be reduced using this treatment.
You can easily reduce folds, wrinkles, and scars while enhancing facial contours by using Restylane injectables. You can also reduce minor imperfections and depressions in the skin.
These are a few benefits of using Restylane dermal injectables:
Reduce acne scars
Enhance chin
Reduce wrinkles
Fill depressions under the eyes
Reduce nasolabial folds
Reduce worry lines, smile lines, smoker's lines, crow's feet, and marionette lines
Lip definition and augmentation
Volumize cheek hollows
Lift the brows
Soften jowl impact
Restylane for Lip Augmentation
As people get older, the lines around the lips and mouth tend to become more prominent. This can result in the thinning of lips, loss of shape and an increase in vertical lines. Restylane Silk is currently the only FDA approved treatment for enhancing the lips mildly. It makes a favorable impact on lines and wrinkles around the mouth as well. Restylane Silk is works well in restoring smile.
Eye Rejuvenation Using Restylane
Dark circles and under-eye hollows can make the face look dull and aged. Restylane dermal filler treatments are a proven, safe, and effective procedure for addressing the condition. The dermal gel is useful in restoring the youthfulness and volume of the area around eyes in a noninvasive manner.
Your treatment provider will inject Restylane around the orbital rim in this procedure. This is a safe place for injecting the dermal filler. Usually, 1 ml of the formula is required for correcting dark circles. The precise amount will be determined by your provider depending on your overall facial structure.
Restylane is a highly sought-after dermal filler treatment for eyes since it can be molded easily. Treatment providers can easily smoothe out bumps and lumps. They can even adjust the viscosity of the gel efficiently under the fragile under eye skin. However, it's critical that you visit an experienced and trained treatment provider.
Cosmetic surgeon Dr. Paul McCluskey receives patients from Atlanta, Marietta, Georgia, and nearby areas for Restylane soft tissue filler injectable treatments for wrinkle reduction and lip enhancement.
Contact Marietta, Georgia Plastic Surgeon Dr. Paul McCluskey at the Plastic Surgery
Institute

of Atlanta for a Consultation

For more information on procedures and treatments offered by Plastic Surgeon, Dr. Paul McCluskey and the Plastic Surgery Institute of Atlanta, visit:

Serving patients in and around Marietta, Atlanta, Roswell, Sandy Springs, Alpharetta, Buckhead, Morningside/Lenox Park, Virginia-Highland, Candler Park, Midtown, Inman Park, Poncey-Highland, Ormewood Park, Georgia and other surrounding areas.