Out-of-Town Patients Visiting Atlanta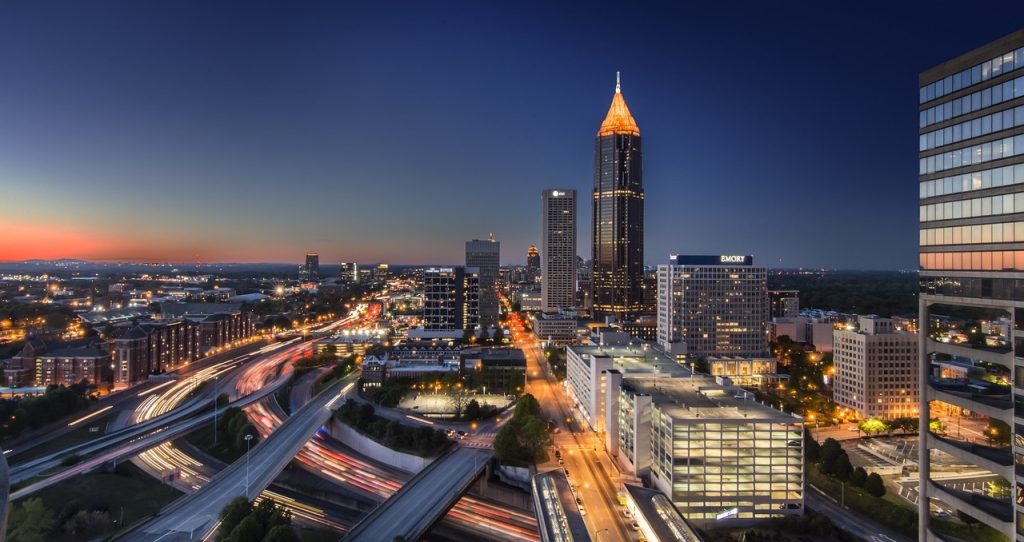 Many patients now choose to travel for their cosmetic treatments in order to receive the best possible care and enjoy a quiet and anonymous recovery period. No longer are patients limited to their own local area when looking for the most trusted and experienced doctors to meet their cosmetic needs.
As a plastic surgeon in Atlanta, Dr. Paul McCluskey works with patients from all over the world who want expert care in a private, convenient setting. The Plastic Surgery Institute of Atlanta staff is dedicated to making the process positive for our out-of-town patients, and we will work with you every step of the way to ensure your travels and surgical experience are safe, successful, and convenient.
Atlanta is one of the most cosmopolitan cities in the US. Downtown Atlanta is occupied by government entities, huge corporations, and is also home to the city's sporting venues and numerous tourist attractions. 
Midtown Atlanta is known for its art institutions, cultural attractions, and institutions of higher education. Buckhead, the uptown district of the city, is eight miles north of Downtown and Atlanta's third-largest business district.
Airport
Hartsfield–Jackson Atlanta International Airport is the world's busiest airport as measured by passenger traffic and aircraft traffic. The facility offers air service to over 150 US destinations and more than 75 international destinations in 50 countries, with over 2,500 arrivals and departures daily. 
Private Executive Airports Near Atlanta
(KATL, ATL) Hartsfield-Jackson Atlanta International Airport
(KFTY, FTY) Fulton County Airport
(KPDK, PDK) Dekalb-Peachtree Airport
(KFFC, FFC) Atlanta Regional Airport
(KRYY, RYY) McCollum-Cobb County International Airport
Hotels
Some of the leading and popular hotels in the city include: 
Waldorf Astoria Atlanta Buckhead

Hyatt Place Atlanta Centennial Park – Downtown Atlanta

Canopy By Hilton Atlanta Midtown – Midtown Atlanta

Omni Hotel at the Battery Atlanta – Cobb Galleria, Atlanta

Marriott – Buckhead – North Atlanta

Hotel Indigo – Downtown Atlanta

Hyatt Regency – Perimeter Center, Atlanta

Marriott Autograph Collection – Downtown Atlanta

Renaissance Atlanta Waverly Hotel & Convention Center – Cobb Galleria, Atlanta
Eating Out in Atlanta 
Atlanta's dining hotspots such as The Optimist, Spring, and Staplehouse often make it to the top of national best-restaurant lists. Restaurants like Sushi Hayakawa and Masterpiece are transforming how the world sees Atlanta cuisine. No longer is this simply a city for hearty and deep-fried Southern fare (though no one does chicken and waffles better); it's a culinary powerhouse where big-name chefs are showing off their skills. 
Click Here to See Atlanta's Best Restaurants
Climate
Atlanta has a humid subtropical climate, with the seasons more or less defined. The winter has a shorter duration is usually mild, but susceptible to snowstorms even if in small quantities on occasions. Summers are hot and humid.
Art and Culture Scene
Atlanta is one of few American cities with permanent companies in all major disciplines of performing arts: opera (Atlanta Opera), ballet (Atlanta Ballet), orchestral music (Atlanta Symphony Orchestra), and theater (the Alliance Theatre). The city attracts many touring Broadway acts, concerts, shows, and exhibitions catering to a range of interests. Atlanta has become one of the best cities in the US for street art in recent times.
Atlanta has more festivals than any other city in the southeastern United States. Notable festivals include Shaky Knees Music Festival, Dragon Con, the Peachtree Road Race, Music Midtown, the Atlanta Film Festival, National Black Arts Festival, Festival Peachtree Latino, and the Little Five Points Halloween festival.
Tourist Attractions
The most popular tourist attraction in Atlanta is the Georgia Aquarium, which is the world's biggest indoor aquarium. The city is known for its history museums as well as outdoor attractions. The Martin Luther King Jr. National Historic Site includes the preserved childhood home of Dr. Martin Luther King Jr., as well as his final resting place. 
The Atlanta Cyclorama & Civil War Museum is home to a massive painting and diorama in-the-round, depicting the Battle of Atlanta in the Civil War. And the World of Coca-Cola features the history of the renowned soft drink brand and its popular advertising.
For more information on procedures and treatments offered by Plastic Surgeon, Dr. Paul McCluskey and the Plastic Surgery Institute of Atlanta, visit:
Serving patients in and around Atlanta, Buckhead,  Roswell, Marietta, Georgia and surrounding areas.