Dermal Fillers 
There are many different types of dermal fillers. Every dermal filler injectable is uniquely formulated with a specific texture, density, and injection depth. This means that you should use different dermal injections for different areas of concern.
Plastic Surgery Institute of Atlanta (PSI), led by plastic surgeon Dr. Paul McCluskey, provides FDA approved facial filler injectable treatments to patients in Atlanta, Marietta, Georgia, and surrounding locations.
Hyaluronic Acid (HA) Fillers
Hyaluronic acid is a naturally occurring compound in the skin and is useful for keeping the skin plump and hydrated. Hyaluronic dermal filler injections are soft and gel-like in nature. They offer temporary results that last from 6 to 12 months. HA particles are gradually and naturally absorbed by the body. You won't feel any discomfort since the hyaluronic acid fillers are infused with a topical numbing agent called lidocaine.
Calcium Hydroxylapatite (CaHa) Fillers
Calcium hydroxylapatite or CaHa is another naturally occurring substance in the body. It is majorly found in the bones. These calcium particles when added to dermal fillers are nearly microscopic in size.
They remain suspended in a smooth gel base. These fillers are thicker as compared to hyaluronic acid based fillers. They also last longer as compared to HA dermal fillers. In most patients CaHa filler results will last for up to 12 months or more.
Production of natural collagen is stimulated by calcium hydroxylapatite. This is why it is used for deeper lines and wrinkles. Radiesse is one of the more popular FDA approved CaHa dermal fillers.
Poly-L-lactic Acid Fillers
Poly-L-lactic acid is a biodegradable and biocompatible synthetic substance. It can be used safely in the body. These fillers work as collagen stimulators since they primarily smooth fine lines. Even though, the dermal filler is absorbed by the skin in a few days, results tend to last for at least 2 years post-treatment. Sculptra Aesthetic is a type of FDA approved dermal filler.
Popular Dermal Filler Injectables
Juvederm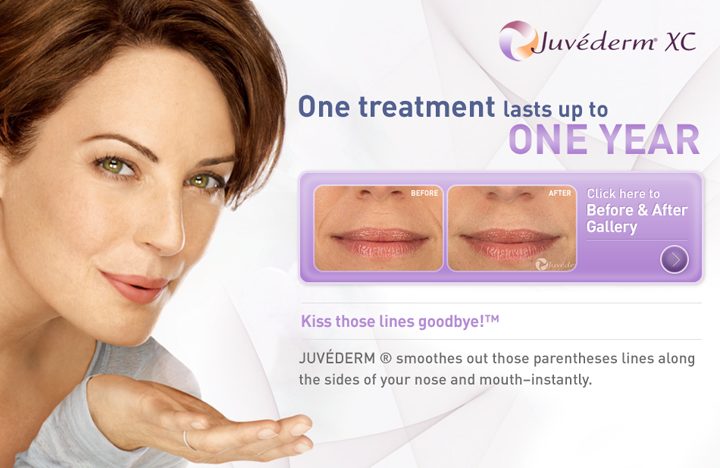 Juvederm is a popular dermal filler treatment that can be used for:
Removing wrinkles and lines from the mouth, forehead, and nose area
Adding volume to hollow cheeks
Mitigating acne scars
Reducing nasolabial folds
Improving facial contours
Juvederm injectables are FDA approved for reducing fine lines and wrinkles. The treatment doesn't require anesthesia and is usually used for laugh lines. It can help restore volume in the cheek area due to aging.
Restylane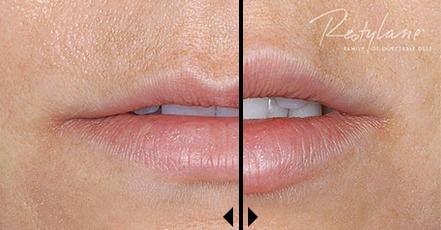 Restylane dermal filler provides results that last for 6 to 12 months. It decreases wrinkles, scars, and folds in the skin to enhance facial contours. Other functions include:
Reducing nasolabial folds
Reducing facial wrinkles
Reducing pigmentation
Reducing acne scars
Increasing lost volume in cheeks
Enhancing chin structure
Filling imperfections
Filling depressions under the eyes
Lip augmentation for enhanced definition
Softening of the jawline
Noninvasive eyebrow lift
Reducing marionette lines around the mouth corners
Reducing worry lines, smoker's lines, and smile lines
Reducing crow's feet and other wrinkles in the eyes area
The Plastic Surgery Institute of Atlanta (PSI), led by cosmetic surgeon Dr. Paul McCluskey, receives patients from Atlanta, Marietta, Georgia, and nearby areas for reliable and proven cosmetic filler injections.
Contact Marietta, Georgia Plastic Surgeon Dr. Paul McCluskey at the Plastic Surgery
Institute

of Atlanta for a Consultation

For more information on procedures and treatments offered by Plastic Surgeon, Dr. Paul McCluskey and the Plastic Surgery Institute of Atlanta, visit:

Serving patients in and around Marietta, Atlanta, Roswell, Sandy Springs, Alpharetta, Buckhead, Morningside/Lenox Park, Virginia-Highland, Candler Park, Midtown, Inman Park, Poncey-Highland, Ormewood Park, Georgia and other surrounding areas.