Exercise of the Week
Here at the Plastic Surgery Institute of Atlanta we are focused on helping our patients feel beautiful and that starts inside! Patients have a lot questions about targeted weight loss and toning certain areas. Even though "targeted" weight loss is not possible with out surgical steps, toning trouble areas is something everybody can work achieve themselves! So, whether you're adding a move to regular routine or learning something totally new, join in with us and help to make a healthier, happier you!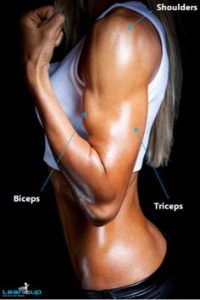 This Week's Move: The Tricep Dip
A common complaint that many patients have is that they are unhappy with the size or appearance of their upper arms. The tricep dip, and other moves that exercise the tricep muscle (as seen in the picture) will specifically tone the backs of the arms increasing strength and creating slimmer, leaner looking upper arms.
This move is incredibly simple and is open to many variations to further test yourself and increase endurance. For example the legs can be bent with feet plants on the ground, straight with heels digging in to the ground, or crossed with one heel digging in to the ground. The key thing to remember with the tricep dip is that it's just that- a work out for the upper arm, so moving the hips up and down to touch the floor will not exercise the arm. The key is to bend the elbow and then snap back in to a straight arm position, even if this means a small bend in the elbow at first as you improve you will be able to achieve a lower 'dip'.
To perform a tricep dip follow the steps below and use Dr McCluskey's pictures as a reference! This move can be performed using a step or low bench or simply on the floor:
1. Lean back and place hands directly under shoulders with fingers facing forward.
2.  With legs either straight out to the front, bent, or crossed, lift your butt off the floor and shift your weight back so that more pressure is on your arms than legs.
3. Simply bend the elbows lowering your upper body slowly without letting your bum touch the floor.
4. Then push back to a straight arm position to complete the dip!
Perform this action twenty times for three sets each day for the next week and see if you can notice an improvement. Changing leg position or using a step to allow a bigger dip will increase the challenge! Controlled and stable movements will help to produce the best results, and don't forget to check in with us and let us know what you think of this exercise!
For more information on treatments and procedures offered offered by Atlanta Plastic Surgeon, Dr. Paul McCluskey visit: