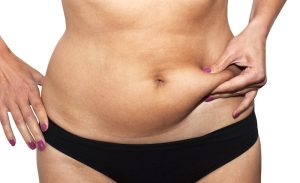 For people with lipedema, it is vital to avoid substantial weight gain, and obesity as putting on weight will worsen the fatty inflammation. 
Some people find compression tights useful in this condition as they support the fatty swelling and may decrease the pain.
Lipedema does not have any single effective treatment. Symptom alleviation and prevention of the progression of the condition involves diet and nutrition, exercise, emotional support, and management of co-existing medical issues that may cause swelling in the legs.
The primary conservative treatment is complete decongestive therapy (also known as complex decongestive therapy, or CDT). CDT is a combination of various techniques, such as manual lymph drainage (a message technique), physical mobilization, and compression therapy. 
If conservative and support therapies are not effective, surgery may be considered. Surgical options may include liposuction using specialized approaches for lipedema (such as water jet-assisted liposuction) and excision (surgical elimination of large deposits of impacted tissue).
Plastic surgeon Dr. Paul McCluskey provides safe and proven treatments for lipedema to patients in Atlanta, Buckhead, Georgia, and surrounding communities. 
Tumescent Liposuction
The only treatment that seems to be effective in reducing the accumulation of fatty tissue associated with lipedema is a plastic surgery procedure known as tumescent liposuction.
Tumescent liposuction involves suctioning out the undesirable fat through a tube. A liquid solution if initially injected into the legs to numb the site and reduce blood loss. 
The procedure can be effective and have good outcomes. However, multiple operations may be necessary to eliminate the fat from various areas of the body. Fatty swelling of the legs may recur after having the procedure if the patient gains weight. 
In addition, non-surgical treatments may be necessary for a long duration following tumescent liposuction. For instance, the patient will need to wear compression garments post-surgery to prevent complications, such as lymphedema.
Treatments to Prevent Lymphedema
At times, non-surgical treatments help improve tenderness and pain, reduce or prevent lymphedema, and improve the shape of impacted limbs. But they typically have little effect on the fatty tissue. 
Various treatments are meant to enhance the flow and drainage of fluid in the tissues, such as:
Compression therapy

: This involves wearing garments or bandages that squeeze the impacted limbs.

Exercise: Typically low-impact exercises, such as cycling or swimming.
Massage

: Techniques that encourage the flow of fluid through the body.
Treatments that Do Not Work
The treatments used for certain types of tissue inflammation are usually unhelpful in the case of lipedema.
Lipedema does not respond to:
Raising the legs

Diuretics: Tablets to eliminate excess fluid

Dieting: This tends to cause fat loss from areas unaffected by lipedema, with little effect on the impacted sites
Lipoedema or Lymphedema?
These two conditions can appear very similar. However, there are vital differences. Lymphedema refers to swelling beneath the skin due to an accumulation of fluid in the lymphatic system, the network of vessels that remove excess fluid from body tissue. 
Upon being pressed, the skin which is swollen due to lymphedema will indent or pit. However, this does not occur in cases of lipedema. 
If the accumulation of fat impacts the lymphatic drainage, a person with lipedema may eventually develop lymphedema as well. The combination of these two conditions is called lipo-lymphedema.
Cosmetic surgeon Dr. Paul McCluskey receives patients from Atlanta, Buckhead, Georgia, and nearby areas for lipedema treatment.
For more information on procedures and treatments offered by Plastic Surgeon, Dr. Paul McCluskey and the Plastic Surgery Institute of Atlanta, visit:
Serving patients in and around Atlanta, Buckhead,  Roswell, Marietta, Georgia and surrounding areas.