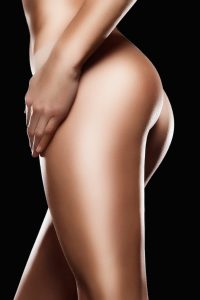 Lipedema refers to a condition that causes excess fat to accumulate in the lower areas of the body. Lipedema usually involves the thighs, calves, and buttocks. 
In some cases, the upper arms may also be affected. The condition does not impact the feet or hands. 
Lipedema is a condition that causes excess fat to accumulate in the lower part of the body. Lipedema most often involves the buttocks, thighs, and calves. The upper arms can also be affected. The condition does not affect the hands or feet.
Lipedema may be mistaken for lymphedema, but both of these are different conditions. However, lipedema can develop into lymphedema. Plastic surgeon Dr. Paul McCluskey provides safe and proven treatments for lipedema to patients in Atlanta, Buckhead, Georgia, and surrounding locations.
What causes Lipedema?
The precise reason for the development of lipedema is not known. However, the condition runs in families and may be genetic. Lipedema develops almost always in women. It typically initiates or becomes worse at the time of puberty, pregnancy, or menopause. Due to this, there may be a possible connection to hormones. 
Lipedema may not occur due to obesity, but over half the patients with this condition are obese or overweight. Dieting can cause a person to lose weight in the upper body without leading to changes in the regions impacted by lipedema.
Lipedema symptoms may include the following:
Fat accumulation in the calves, thighs, buttocks, and sometimes in the upper arms. 

Diuretics, raising the legs and support stockings do not help the impacted sites.

There is usually no inflammation in hands or feet unless the patient has lymphedema or chronic venous insufficiency.
Upon worsening, lipedema can impact a person's ability to walk. Many people with lipedema have emotional symptoms, such as feeling embarrassed, depressed, or anxious as the lower region of their body becomes enlarged. 
As more fat builds up over time, it can obstruct the lymphatic pathway. This can lead to an accumulation of fluid known as lymph. The condition is called lipo-lymphedema or secondary lymphedema.
Diagnosis
It is challenging to assess and diagnose lipedema. It is best undertaken by a medical practitioner with experience in the condition. Imaging tests, such as MRI, ultrasound, lymphangiogram, and/or lymphoscintigraphy, may be helpful in the diagnosis of lipedema. However, the test results may be 'normal' in the initial stages of the disorder. 
It is vital to differentiate lipedema from other similar condition, including but not limited to the following: lipohypertrophy (a condition with similar signs and symptoms, but no edema and pain), obesity, and lymphedema (inflammation due to an abnormal build-up of fluids). 
Advanced cases should be evaluated for other causes of classic edema of the lower legs, such as idiopathic edema, chronic venous insufficiency (the veins have issues in sending blood from the legs back to the heart), postural edema (accumulation of fluid in the ankles and feet after standing for a long time), and edema due to internal disease.
The conventional guidelines for diagnosing lipedema include the following criteria:
Bilateral and symmetrical presentation with minimal involvement of the feet

Minimal pitting edema, tenderness, pain and easy bruising

Persistent inflammation of lower extremities despite elevation or weight loss
Updated guidelines propose a lipedema diagnosis with the criteria as classically defined in addition to symptoms of the upper leg(s) and arm(s), such as a circularly thickened layer of fat impacting the skin. Cosmetic surgeon Dr. Paul McCluskey receives patients from Atlanta, Buckhead, Georgia, and nearby areas for lipedema treatment.
For more information on procedures and treatments offered by Plastic Surgeon, Dr. Paul McCluskey and the Plastic Surgery Institute of Atlanta, visit:
Serving patients in and around Atlanta, Buckhead,  Roswell, Marietta, Georgia and surrounding areas.