Tattoo Removal Atlanta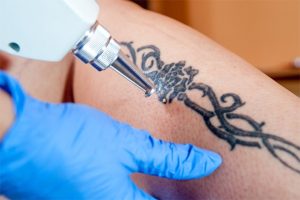 By some estimates, nearly one in three Americans has at least one tattoo on some part of their body. Among the millennials, this figure is even higher at almost 50 percent. However, with the passage of time, some people may want to reverse their decision to keep a permanent tattoo. Up to 25 percent of the people with tattoos are likely to feel unhappy at some point with their permanent tattoo.
People who feel dissatisfied with their permanent tattoo can now seek laser tattoo removal treatment to get rid of unwanted tattoos with virtually no risk of complications. Plastic surgeon Dr. Paul McCluskey provides laser tattoo removal to patients in Atlanta, Buckhead, Georgia, and surrounding locations.
How does Laser Tattoo Removal Work?
High precision laser technologies are available today to remove tattoos by breaking down the pigmentation through an intensive light beam. Dark tattoo pigmentation will absorb the maximum laser wavelengths. As a consequence, black tattoo pigment is the quickest to get disintegrated and removed. However, you need specific laser equipment to remove certain other colors, depending on the ink used and the pigment in the tattoo.
If you are seeking laser tattoo removal, you should talk to a qualified cosmetic surgeon or laser professional who can examine your condition of the tattoo and provide the best solutions. The number of laser tattoo removal sessions will depend on the age, design, size, ink, and color of the tattoo. The tattoo removal technique can vary according to the depth of the tattoo pigment and other factors.
Laser Tattoo Removal Procedure Steps
When you are undergoing laser tattoo removal, your provider will perform the following steps:
You will be provided with protective eye shields.
Your laser expert will evaluate the response of your skin to the laser to determine the appropriate level of laser intensity.
The provider will apply the laser device to deliver intense light pulses in a targeted manner through the upper most skin layer. This light energy will only be absorbed by the tattoo pigment, and will not harm the surrounding healthy tissue.
Larger or deeper tattoos may require a stronger level of laser energy. Your permanent tattoo removal will take multiple treatment sessions to completely eliminate the tattoo. Following each treatment session, the pigment of the tattoo will become progressively lighter.
The laser tattoo removal process may cause minor discomfort, but most patients do not need anesthesia. Your treatment provider may use a topical anesthetic cream before the procedure, depending on your pain tolerance and the location of the tattoo.
Recovery
Following each session, your provider will apply an ice pack to the treated area to soothe the site. They may also use an antibiotic or ointment and bandage to protect the treated site. You should ensure that you are using sun block cream in the treated skin when you visit outdoors.
No other specific recovery process is involved in the laser tattoo removal treatment. You can resume your normal routine the same day after your procedure. Cosmetic surgeon Dr. Paul McCluskey receives patients from Atlanta, Buckhead, Georgia, and nearby areas for laser tattoo removal.
Contact Atlanta Plastic Surgeon Dr. Paul McCluskey for a Consultation
For more information on procedures and treatments offered by Plastic Surgeon, Dr. Paul McCluskey and the Plastic Surgery Institute of Atlanta, visit:
Serving patients in and around Atlanta, Buckhead, Morningside/Lenox Park, Roswell, Virginia-Highland, Candler Park, Midtown, Inman Park, Poncey-Highland, Ormewood Park, Roswell, Marietta, Georgia and other surrounding areas.