Laser Tattoo Removal Atlanta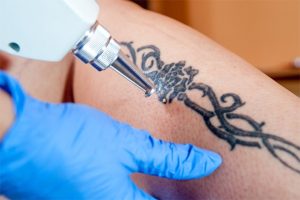 Laser tattoo removal is a highly safe and effective way to eliminate unwanted permanent tattoos in almost any area of your body. The procedure involves no cuts or incisions, and it can be performed in-office. At the time of your pre-op consultation, your laser expert will explain to you the various aspects of laser tattoo removal, including its estimated costs.
The first concern of a dedicated treatment provider is to educate you about the procedure and enable you to make a well-considered choice. Plastic surgeon Dr. Paul McCluskey provides laser tattoo removal to patients in Atlanta, Buckhead, Georgia, and surrounding communities.
Type of Laser Equipment Used
The cost of laser tattoo removal can vary from one practice to another, depending on the type of laser technology your provider employs for this procedure. Dr. McCluskey's practice offers the advanced Spectrum Tattoo Removal Laser technology (Q-switched Nd:YAG laser). This is considered the gold standard when it comes to permanent tattoo removal.
You will require relatively fewer treatment sessions with Spectrum laser technology and your provider can remove the permanent tattoo in a less invasive way. This innovative technology allows the use of multiple wavelengths so that the tattoo removal procedure can be customized to match with your unique skin care and tattoo removal needs.
Pricing Variation
Laser tattoo removal costs can vary between two patients even at the same practice because of a few reasons. The quality and characteristics of the permanent tattoo is unique in each case. Your laser tattoo removal expert will first evaluate the tattoo and your skin type. Depending on this assessment, they will determine the number of treatment sessions you might require to remove the tattoo.
If the tattoo pigment is black or another dark pigment, it is often easier to eliminate it because dark colors tend to absorb the maximum light. Green colored tattoos are usually the toughest to remove. Similarly, patients with darker skin may need specialized laser devices to eliminate the tattoo safely and comfortably.
If the tattoo was originally created with a recognized quality of ink, it may be more easily removed. Other factors to be considered in laser tattoo removal are the size and location of the tattoo. An extensive tattoo or one that is placed in a sensitive or difficult to reach location may require more time and effort for its removal. The costs for the procedure are going to be related to the total number of treatment sessions involved.
Other Factors Influencing the Price Tag
Where the practice is located is a key factor that will impact the total cost of any cosmetic procedure. If the practice is located in a leading urban center or major metropolitan area, it is likely to have higher real estate and overhead costs compared to another practice located in a small town.
The skills and qualifications the laser treatment provider is an important factor, which will determine the fee they charge. Factors such as the quality standards of a provider, the type of facilities and services they provide, and the type of laser technologies they use will affect the total monetary amount.
You should preferably work with a top qualified treatment provider to reduce your risks of scarring and other adverse effects that could be associated with laser tattoo removal. Cosmetic surgeon Dr. Paul McCluskey receives patients from Atlanta, Buckhead, Georgia, and nearby areas for laser tattoo removal.
Contact Atlanta Plastic Surgeon Dr. Paul McCluskey for a Consultation
For more information on procedures and treatments offered by Plastic Surgeon, Dr. Paul McCluskey and the Plastic Surgery Institute of Atlanta, visit:
Serving patients in and around Atlanta, Buckhead, Morningside/Lenox Park, Roswell, Virginia-Highland, Candler Park, Midtown, Inman Park, Poncey-Highland, Ormewood Park, Roswell, Marietta, Georgia and other surrounding areas.