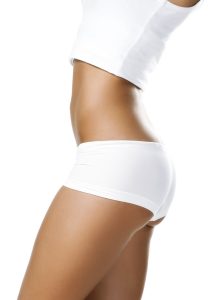 After liposuction plastic surgery, the patient's new figure will be more or less permanent. If the patient puts on a moderate amount of weight following the surgery, their new figure will simply become a slightly bigger version of their new body shape.
Plastic surgeon Dr. Paul McCluskey provides liposuction to patients in Atlanta, Buckhead, Georgia, and surrounding locations.
Permanent Fat Cell Reduction
Liposuction eliminates fat cells from the treated area for good, and these removed cells will not re-grow. The human body typically does not generate new fat cells, even when a person puts on a moderate amount of weight. This means that the fat cells removed by liposuction are permanently eliminated.
If the patient does not gain an excessive amount of weight, their new, sleeker body accomplished with liposuction will be permanent. But the patient should be aware that whatever fat cells remain in the body following liposuction can grow bigger in size if they put on a large amount of weight.
Patients should be aware that the natural process of aging will lead to normal changes in their body shape over the years. But as long as the patient maintains a balanced diet and regular exercise regimen, they can be assured that the cosmetic benefits of liposuction will sustain.
Pregnancy Impact after a Liposuction Surgery
Certain women may have concerns about the effects of their liposuction cosmetic surgery if they become pregnant in the future. Most patients can feel confident that pregnancy will not permanently change the body contouring results attained with liposuction.
If a woman undergoes liposuction, and subsequently becomes pregnant and puts on weight, gives birth, and then again loses the excess weight she put on during pregnancy, her original liposuction outcomes will return. For many patients, it will appear as if she has not been through a post-lipo surgery at all.
However, female liposuction cosmetic surgery candidates should ideally choose this procedure when they do not have any plans to become pregnant in the future.
Pregnancy can lead to cellulite, stretch marks, and sagging skin in the breast, abdominal, butt, and thigh areas, which are cosmetic concerns that are not related to liposuction.
Liposuction is meant to be a fat reduction and body contouring procedure that will improve the body shape. However, it does not have a significant effect on the elimination of stretch marks or cellulite, improving the quality of skin texture, or tightening sagging skin.
Liposuction after Final Pregnancy
Certain women may develop stubborn fatty pockets in the abdominal area because of numerous pregnancies. In case a woman chooses to undergo liposuction after her final pregnancy, she can expect a dramatic improvement in the shape of her abdomen.
Many patients will be able to avoid the more invasive tummy tuck plastic surgery and attain a more defined and flatter abdomen with liposuction after their final pregnancy.
When do the outcomes become visible?
A majority of patients will be able to attain 90 percent of their final liposuction results in around three months after the procedure. The post-op inflammation will resolve gradually over several months depending on the type of liposuction technique used and extent of the surgery. After the inflammation subsides completely, the final outcomes of the liposuction surgery will become apparent.
Cosmetic surgeon Dr. Paul McCluskey receives patients from Atlanta, Buckhead, Georgia, and nearby areas for liposuction.
For more information on procedures and treatments offered by Plastic Surgeon, Dr. Paul McCluskey and the Plastic Surgery Institute of Atlanta, visit:
Serving patients in and around Atlanta, Buckhead,  Roswell, Marietta, Georgia and surrounding areas.