Get Rid of Wrinkles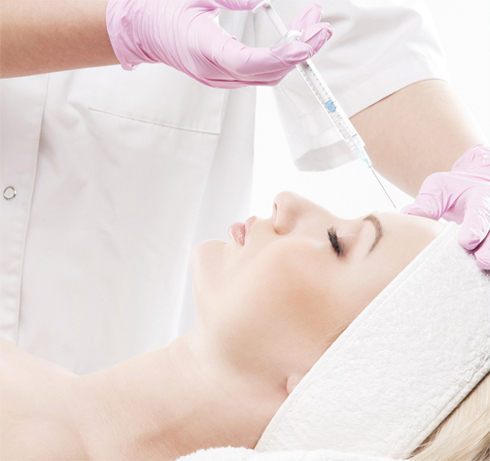 Dermal fillers can temporarily soften creases, wrinkles, and fine lines when injected under the skin. Facial fillers are generally offered as an outpatient procedure performed under local anesthesia. A single session may take up to an hour. You may experience bruising, mild discomfort, and swelling for up to a week.
You may require touch-up injections once the swelling subsides for best results. Type of fillers used and individual anatomy among other factors determine the duration of effects.
The Plastic Surgery Institute of Atlanta (PSI), led by plastic surgeon Dr. Paul McCluskey, provides dermal filler injectables to soften facial creases and wrinkles for patients in Atlanta, Marietta, Georgia, and surrounding communities.
Type of Dermal Fillers for Reducing Wrinkles
There are three major categories of facial fillers for softening wrinkles and creases:
Hyaluronic acid (Restylane, Juvederm, others): HA is a naturally occurring component in the connective tissue of the skin. It is a commonly used dermal filler for wrinkles with results lasting anywhere from 6 – 12 months.
Calcium hydroxylapatite (Radiesse): This dermal filler is used for restoring volume in the cheeks, contouring jaw lines, and treating skin folds and deeper wrinkles. Results tend to last for a year in case of contouring and three years when filling wrinkles.
Poly-L-lactic acid (Sculptra): These dermal fillers can be used for restoring facial volume lose because of illness and aging. You may need 2 – 3 injections with effects lasting for up to 2 years.
Treatment Areas
Depending on the targeted body area, different types of dermal fillers can be used for the following:
Deep wrinkles
Majority of dermal fillers can be used for treating deep wrinkles. However, polylactic acid, PMMA, and certain hyaluronic acid containing fillers are preferred by patients.
Under-eye area
Hyaluronic acid, polylactic acid and fat injections can be used in the under-eye area. Certain types of HA filler offer better results than others. Some fillers may leave the area looking bumpy and lumpy and not provide optimal correction. FDA has not approved any dermal filler for use in the under-eye area.
Smile lines or nasolabial lines
The FDA has approved majority of PMMA microspheres and hyaluronic acid fillers for this purpose.
Forehead and crow's feet
Dermal fillers for reducing crow's feet and forehead furrows include calcium hydroxylapatite, polylactic acid, and PMMA. Dermal fillers are not approved to be used in the forehead and many treatment providers don't offer this because of complications.
Cheeks
Polylactic acid and HA dermal fillers can be used for structuring and plumping cheeks.
Lips
Most dermal fillers with hyaluronic acid are FDA approved to be used as lip fillers. Most other available options should not be used in the lip area.
Chin
Hyaluronic acid, calcium hydroxylapatite and any other dermal filler can be used for adding volume and contour to the chin.
Hands
Calcium hydroxylapatite and HA can be used for filling loose skin and decreasing the appearance of veins on the hands.
The Plastic Surgery Institute of Atlanta, led by cosmetic surgeon Dr. Paul McCluskey, receives patients from Atlanta, Marietta, Georgia, and nearby areas for dermal fillers to soften facial creases and wrinkles.
Contact Marietta, Georgia Plastic Surgeon Dr. Paul McCluskey at the Plastic Surgery
Institute

of Atlanta for a Consultation

For more information on procedures and treatments offered by Plastic Surgeon, Dr. Paul McCluskey and the Plastic Surgery Institute of Atlanta, visit:

Serving patients in and around Marietta, Atlanta, Roswell, Sandy Springs, Alpharetta, Buckhead, Morningside/Lenox Park, Virginia-Highland, Candler Park, Midtown, Inman Park, Poncey-Highland, Ormewood Park, Georgia and other surrounding areas.