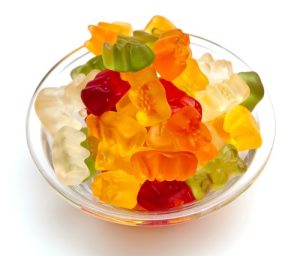 "Gummy bear" implants were recently approved by the FDA  and provide a more cohesive silicone gel implant compared with traditional silicone breast implants. This firmer gel is thought to cause less wrinkling and rippling and create a firmness that some women may find more desirable. As with all implants, cohesive gel implants do have risks such as rotation, and larger incisions are needed for their insertions due to their added firmness. Here is Dr McCluskey's take on cohesive gel implants:
"The breast implant manufacturers such as Mentor Corp, Allergan Natrelle, and Sientra have been touting cohesive gel or gummy bear implants for a long time.  These companies created buzz over these new implants, driving patients to plastic surgery offices requesting cohesive gel implants.  I performed a number of breast augmentation cases with cohesive gel implants after they were FDA approved, but the results and patient satisfaction ratings were mixed.  A number of the patients complained that the implants were too firm & that they didn't have the softer feel of natural breast tissue.  In two cases my patients asked that I remove the cohesive gel implants and replace them with standard silicone gel implants.  In both of those cases the patients were much happier after I exchanged the implants.  From my experience silicone gel implants have a soft, natural feel and the newer cohesive gel implants are more firm and do not offer an advantage over standard silicone gel implants."
During your consultation, Dr McCluskey will assess which type of implant is right for you and the look you are trying to achieve.
For more information on treatments and procedures offered offered by Plastic Surgeon, Dr. Paul McCluskey visit: