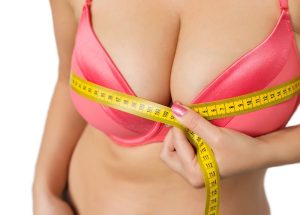 Breast implant revision cosmetic surgery may be necessary in cases where the patient needs to have her breast implants removed or replaced due to damage to the implants or a change in her personal cosmetic choices. 
At the time of the pre-operative consultation, the surgeon will explain various facets of breast revision and assist the patient in determining her choice between breast implant replacement and removal surgeries.
Some surgeons may choose to present breast implant revision before and after pictures during the initial appointment to help the patient understand the potential effectiveness of this procedure. 
Plastic surgeon Dr. Paul McCluskey provides breast implant revision surgery to patients in Atlanta, Buckhead, Georgia, and surrounding locations.
What are Breast Implant Revision Before and After Images?
In the case of breast implant revision cosmetic surgery, before and after images refers to a set of photos belonging to a previous patient who has undergone the same procedure with successful outcomes. 
The set includes images taken before the procedure and after the surgery at a time when the full results of the procedure are noticeable. It can take a few months for the complete results to establish when the post-operative inflammation has fully resolved. 
The surgeon will acquire these images with the express consent of the patient and show them to new patients in a judicious manner. The identity of the patient must be kept private, as per standard norms. 
The only reason that the surgeon displays these photos is to inform new patients about various facets of breast implant revision and explain to them the potential advantages of the procedure. Upon viewing these images, the patient can get clarity on what this procedure can and cannot do for them.
Benefits
A new patient seeking a breast implant revision plastic surgery may only have a limited comprehension of how the procedure could address her implant issues, and whether it will be able to address her personal cosmetic goals. 
Certain patients may need only an implant replacement while others may require implant replacement along with a breast lifts surgery. 
New patients may find it challenging to determine what is appropriate for them and what should be the optimal surgical plan. The treatment provider can show her breast implant revision before and after photos at this point to enable her to make a well-considered decision. This would be done during the consultation but many images of surgeries that closely pertain to this one can be seen on the website. 
Developing Reasonable Expectations
In a significant cosmetic procedure, such as breast implant revision (implant replacement), the patient can achieve the highest levels of satisfaction when they have a positive frame of mind, concise goals, and reasonable expectations. 
Breast implant revision surgery before and after images allow the surgeon to make sure that the patient understands precisely what to expect and what not to expect from the procedure. This reduces the risk of any disappointments from the procedure outcomes in the future. 
Dr. McCluskey believes in transparency which is why he has a long list of satisfied clients. His clients come from all walks of life and his website speaks volumes of his practice. 
Online Images
The surgeon may choose to share breast implant revision cosmetic surgery before and after images using social media and through their website to offer free access to all. Though right now, as already indicated, these exact pictures for this particular treatment are not on the website but this can change any time. 
With that said, many other images are on the website that pertain to surgery to the breast. This should offer you a salient idea on how serious we take every patient and how adept we are when it comes to surgery to the breasts.
New patients can easily see these images online and then decide whether to set-up a breast implant revision consultation with the surgeon. Cosmetic surgeon Dr. Paul McCluskey receives patients from Atlanta, Buckhead, Georgia, and nearby areas for breast implant revision surgery.
For more information on procedures and treatments offered by Plastic Surgeon, Dr. Paul McCluskey and the Plastic Surgery Institute of Atlanta, visit:
Serving patients in and around Atlanta, Buckhead,  Roswell, Marietta, Georgia and surrounding areas.