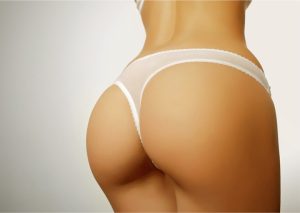 Brazilian Butt Lift surgery is one of the most sought-after plastic surgery procedures. It could be the right option for you if you want some more volume, a youthful profile, and a good lift in your buttocks. You could enjoy the results of a Brazilian butt lift (BBL) if you worry about a flat or sagging bottom.
Your surgeon will assess your physical goals and existing anatomy to decide if this type of procedure is suitable for you. During the pre-op consultation, your surgeon will explain the different factors taken into consideration when determining if you are a suitable candidate for the surgery.  Plastic surgeon Dr. Paul McCluskey provides Brazilian butt lift to patients in Atlanta, Marietta, Georgia, and surrounding locations
Candidacy Factors for Brazilian Butt Lift
Skin Laxity: It is important that the skin on the buttocks has an adequate degree of flexibility. If you would like to achieve the best outcome from a BBL procedure, there should not be any major drooping of the back tissue. However, if there is too much skin, it will likely have to be removed as part of a regular buttock lift surgery.
Good Physical Health: A prospective patient must not only be in good physical condition to properly handle the anesthetic and the results of the medical intervention but also have realistic expectations of the outcome. You will also need to be able to quit smoking and drinking before your surgery and during your recovery phase to help avoid complications.
Body Fat: Brazilian butt lift is a fat grafting procedure. If you do not have additional fat in other areas of your body, you will not be able to have the procedure completed. The technique includes the removal of fat from a donor site, often the stomach, sides, or thighs, by means of liposuction and then injecting it into the buttocks after refining the fat cells. 
Your surgeon will need at least three to four times the volume of fat injected since the fat is processed and purified. Also, the injected fat cells may be metabolized and lost due to the body's natural processes. Therefore, the procedure isn't suitable for patients who have very few or no extra fat stores. You may be asked to gain weight prior to the procedure. You can also consult with the provider about other possible options.
Contact Us
Brazilian butt lift surgery is a widely sought-after procedure for shaping and augmenting the buttocks due to its ability to be tailored to individual patient requirements. Plastic surgeon Dr. Paul McCluskey provides Brazilian butt lift to patients in Atlanta, Marietta, Georgia, and surrounding locations.
Contact Marietta, Georgia Plastic Surgeon Dr. Paul McCluskey at the Plastic Surgery
Institute

of Atlanta for a Consultation

For more information on procedures and treatments offered by Plastic Surgeon, Dr. Paul McCluskey and the Plastic Surgery Institute of Atlanta, visit:

Serving patients in and around Marietta, Atlanta, Roswell, Sandy Springs, Alpharetta, Buckhead, Morningside/Lenox Park, Virginia-Highland, Candler Park, Midtown, Inman Park, Poncey-Highland, Ormewood Park, Georgia and other surrounding areas.