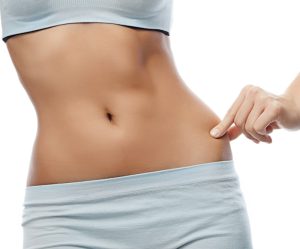 Tummy tuck and liposuction are two of the most popular body contouring procedures for individuals looking to lose excess fat. While both of these procedures can yield powerful results, it is important to consider the differences between the two to help determine which is right for you and your goals. During your initial consultation, your surgeon will also perform an examination and discuss your best treatment options. Plastic surgeon Dr. Paul McCluskey provides liposuction and tummy tuck to patients in Atlanta, Marietta, Georgia, and surrounding locations.
What is a Tummy Tuck?
Tummy tuck surgery is an outpatient surgery that is done under general anesthesia. This procedure involves a long, horizontal incision along the pubic area beneath the abdomen, which allows the surgeon to remove excess fat and skin from the area. During tummy tuck, the abdominal muscles are also repaired and reconstructed. This procedure is more of an intensive surgery than liposuction. Tummy tuck surgery is ideal for patients that have loose, sagging skin due to age, weight loss or pregnancy. 
What is Liposuction?
Similar to tummy tuck surgery, this procedure is typically performed as an outpatient procedure under general anesthesia. Liposuction can remove fat from almost anywhere on the body, most commonly the stomach, arms, legs and back. During surgery, a mixture of saline, water and anesthesia is injected into the treatment area and then removed with a thin cannula. Excess fat is reduced, but any excess skin will be untouched. This treatment is ideal for patients looking to reduce small areas of fat that will not leave them with loose, sagging skin.
Considerations
Tummy tuck surgery and liposuction are body contouring procedures that will reduce excess fat in localized areas. These treatments are not weight loss procedures, and you will need to maintain a healthy diet and exercise to maintain your results from either procedure. With tummy tuck surgery, you should expect to have a longer recovery period. If you are simply looking to reduce small areas of fat from the body, liposuction is a good option. For the removal of excess skin in addition to fat, you should consider tummy tuck surgery. Plastic surgeon Dr. Paul McCluskey provides tummy tuck and liposuction to patients in Atlanta, Marietta, Georgia, and surrounding locations.
Contact Marietta, Georgia Plastic Surgeon Dr. Paul McCluskey at the Plastic Surgery
Institute

of Atlanta for a Consultation

For more information on procedures and treatments offered by Plastic Surgeon, Dr. Paul McCluskey and the Plastic Surgery Institute of Atlanta, visit:

Serving patients in and around Marietta, Atlanta, Roswell, Sandy Springs, Alpharetta, Buckhead, Morningside/Lenox Park, Virginia-Highland, Candler Park, Midtown, Inman Park, Poncey-Highland, Ormewood Park, Georgia and other surrounding areas.