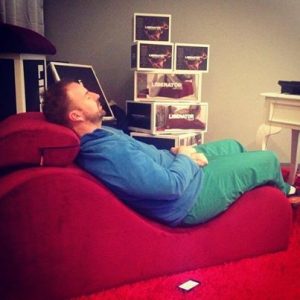 I'm very excited to announce our partnership with Liberator, inc.  Liberator is an Atlanta-based manufacturer of a line of extremely popular foam wedges and furniture.  More specifically, Liberator makes "sex furniture."  While evaluating the Liberator products I saw incredible potential for their use during surgical recovery.  So many of the procedures I do require special positioning after surgery and these positions are difficult to comfortably achieve on a bed or sofa at home.  Liberator's products are made of sturdy, comfortable but firm foam with washable, water-resistant covers.  This makes these products ideal for postoperative use.  For example, the Liberator Ramp, or Ramp/Wedge combo put the patient in the ideal flexed position after a tummy tuck.  The patient can comfortably rest with the head & torso elevated at 30-60 degrees and the addition of the smaller wedge beneath the knees supports the legs.  When I maneuver the head & legs of a hospital bed for a tummy tuck patient after surgery, this is the precise position I'm trying to achieve.
The Liberator Hipster solves many of our post Brazilian Butt Lift concerns.  The Hipster has a unique shape that allows patients to lie prone comfortably.  The absolute most important thing patients must do after Brazilian Butt Lift is stay off their backside.  As much as possible, they must limit sitting and lying in a supine position.  The Hipster has gentle curves that allow patients to assume a number of positions without shifting their weight onto their buttocks.
Soon I'll have instructional photos and videos posted for postoperative use of select Liberator products! Above you can see me testing out one of the products!
For more information on procedures performed at the Plastic Surgery Institute of Atlanta visit http://sexualaesthetics.com/