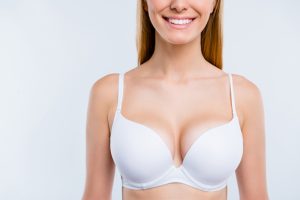 Most patients do not realize that breast implants will need to be removed or replaced at least once in their lifetime after undergoing breast augmentation. Although eventual removal or replacement of the implants may seem like a con of the procedure, silicone breast implants typically last 10-20 years. Plastic surgeon Dr. Paul McCluskey provides silicone breast implants to patients in Atlanta, Marietta, Georgia, and surrounding locations.
Choosing Your Implants
During your initial consultation, you will have a physical examination with your surgeon and discuss your goals to begin deciding which implants are best for you. Some patients choose to bring in photos of their ideal breasts to help the surgeon understand their goals. Depending on the shape of your breasts and your desired size, your surgeon will suggest appropriate implants for you to choose from.
Silicone Breast Implant Procedure
Breast augmentation is an outpatient procedure that requires the use of general anesthesia. Once sedated, your surgeon will create incisions concealed either beneath the natural fold of the breasts, along the arm pit, or around the areola. The implants of your choice are then inserted into the chest, either above or below the muscle. After insertion, the incisions are closed and the procedure is complete.
Can I Go Without Replacing My Implants?
The main reasons to remove or replace silicone implants include:
Capsular Contracture:

The breasts may naturally form scar tissue around the implants, causing hardening and/or pain in the breasts

Rupture or rippling:

The implant may rupture or begin to ripple over time

Age:

Even if capsular contracture, rupture, or rippling do not occur, the breasts will naturally sag over the years and the implants may not look as desirable as they once did, requiring revision surgery.
For your own safety, your breast implants should be removed or replaced if a rupture or capsular contracture occurs. Left untreated, serious health complications can arise. Plastic surgeon Dr. Paul McCluskey provides silicone breast augmentation to patients in Atlanta, Marietta, Georgia, and surrounding locations.
Contact Marietta, Georgia Plastic Surgeon Dr. Paul McCluskey at the Plastic Surgery
Institute

of Atlanta for a Consultation

For more information on procedures and treatments offered by Plastic Surgeon, Dr. Paul McCluskey and the Plastic Surgery Institute of Atlanta, visit:

Serving patients in and around Marietta, Atlanta, Roswell, Sandy Springs, Alpharetta, Buckhead, Morningside/Lenox Park, Virginia-Highland, Candler Park, Midtown, Inman Park, Poncey-Highland, Ormewood Park, Georgia and other surrounding areas.