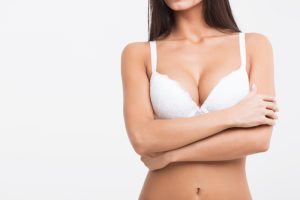 If you're considering breast augmentation, you may also be wondering if you need a breast lift in conjunction with your breast implants. A breast lift and breast implants can work together to achieve desired results and improve the overall appearance of your breasts. By understanding how the two procedures can work together, you can make an informed decision about the best approach for achieving the look you want. Plastic surgeon Dr. Paul McCluskey performs breast lift and breast augmentation to patients in Atlanta, Marietta, Georgia, and surrounding locations. 
Benefits of Combining a Breast Lift with Implants
Breast augmentation is a popular cosmetic procedure that has helped millions of women achieve the bustline they desire. However, for women who have experienced significant weight loss, pregnancy, or breastfeeding, their breasts may have lost their natural shape and appear saggy or droopy. In these cases, combining a breast lift with implants may provide the best results.
One of the benefits of combining a breast lift with implants is that it can help to improve the overall shape of the breasts. Breast implants add volume and size to the breasts, while a breast lift reshapes the breast tissue to a more youthful and perky position. By combining these two procedures, women can achieve a more natural-looking bustline that looks balanced and aesthetically pleasing.
Another benefit of a combined breast lift and implant surgery is that it can address issues such as asymmetry and sagging. Breast sagging occurs when the skin and breast tissue lose their elasticity due to aging, weight loss, or breastfeeding. Implants alone may not address this issue, and may even make it worse by adding weight to an already sagging breast. A breast lift, on the other hand, can remove excess skin and tighten the breast tissue to give the breasts a more youthful and lifted appearance.
A breast lift with implants can also provide longer-lasting results than either procedure alone. When a breast lift is performed with implants, the breast tissue is lifted and supported, which can prevent the breasts from sagging or drooping again in the future. Implants can also help to maintain the shape and size of the breasts, which means that women can enjoy the benefits of their breast augmentation for many years to come.
In summary, combining a breast lift with implants can provide numerous benefits to women who are looking to enhance the appearance of their breasts. From improving overall shape and symmetry to providing longer-lasting results, a breast lift with implants can help women feel more confident and comfortable in their bodies. If you're considering a breast augmentation procedure, be sure to talk to your surgeon about whether a combined breast lift and implant surgery is right for you.
Ideal Candidates for Combined Breast Lift and Implant Surgery
Not everyone who wants a breast augmentation or lift is a good candidate for a combined breast lift and implant surgery. Your surgeon will carefully assess your individual needs, preferences, and physical characteristics to determine whether this procedure is right for you.
In general, ideal candidates for a combined breast lift and implant surgery include women who:
Have lost breast volume or experienced sagging due to pregnancy, breastfeeding, weight loss, or aging.

Have a desire for larger, fuller, and more youthful-looking breasts.

Have realistic expectations about what the procedure can achieve.

Are in good physical and mental health and have no underlying medical conditions that could increase the risk of complications.

Do not smoke or are willing to quit smoking for at least two weeks before and after the procedure.

Have a stable weight and are not planning to lose or gain a significant amount of weight in the near future.

Have enough breast tissue to support the implants and the lifted breasts.

Have good skin elasticity and no significant stretch marks or scars on the breasts.
Keep in mind that each patient is unique and your surgeon will tailor the procedure to your specific needs and goals. Therefore, it's important to have a thorough consultation with your surgeon to discuss your options, risks, benefits, and expected outcomes before making a decision. With the right preparation, planning, and care, a combined breast lift and implant surgery can help you achieve the breasts you've always wanted.
The Consultation Process: Discussing Your Options with Your Surgeon
Deciding to undergo breast augmentation surgery is a big decision, and it's important to choose a skilled and experienced surgeon who can guide you through the process. During your initial consultation, your surgeon will evaluate your breasts and discuss your goals to determine whether a breast lift with implants is the best option for you.
Your surgeon will begin by examining your breasts and taking measurements to assess your natural breast tissue, nipple placement, and skin quality. Based on these factors, they can recommend whether a breast lift, implant, or combination of the two will achieve your desired results. 
It's important to be open and honest about your goals during this consultation, as well as your medical history and any concerns you may have. Your surgeon can provide you with all the information you need to make an informed decision about the surgery, including the risks and benefits of the procedure, what to expect during the recovery period, and the likely results.
If a combined breast lift and implant procedure is recommended, your surgeon will explain the details of the surgery and answer any questions you may have. They will also show you before-and-after photos of other patients who have undergone this procedure to give you an idea of the potential outcomes.
Finally, your surgeon will take the time to discuss your options for implant type, size, and placement, as well as incision locations and the extent of your lift. They will help you choose the right options for your body and goals, ensuring that you are completely satisfied with the final results. 
By the end of your consultation, you should have a clear understanding of what to expect from the procedure, as well as a personalized treatment plan tailored to your specific needs and goals. With the guidance of your surgeon, you can make an informed decision and move forward with confidence knowing you're in good hands.
The Surgical Procedure: What to Expect
Once you and your surgeon have determined that a combined breast lift and implant surgery is the best option for achieving your desired results, you will need to prepare for the procedure. Here's what you can expect during the surgical process:
Anesthesia: You will be placed under general anesthesia, which means you will be completely asleep throughout the surgery. This ensures your comfort and safety during the procedure.
Incision: The surgeon will make incisions based on the type of implant and lift you have chosen. Incisions for implants can be made in the crease beneath the breast, around the nipple, or in the armpit. Incisions for the lift are typically made around the areola and down to the crease beneath the breast.
Implant placement: The surgeon will place the implant either under or over the muscle, depending on your individual needs and goals. This decision will be made during the consultation process.
Lift: The surgeon will reshape and lift the breast tissue to create a more youthful and natural appearance.
Closing the incisions: Once the implant and lift have been completed, the surgeon will close the incisions with sutures.
Recovery: You will be closely monitored in a recovery room before being released to go home. You will need to rest and limit physical activity for a few weeks while you recover. Your surgeon will provide detailed aftercare instructions to help ensure proper healing.
Overall, the surgical procedure for combined breast lift and implant surgery typically takes between two and three hours. It's important to discuss any concerns or questions you have with your surgeon beforehand so that you feel confident and comfortable going into the procedure. With the right preparation and care, you can enjoy beautiful and natural-looking results from your breast lift and implant surgery.
Recovery and Aftercare: Taking Care of Your New Breasts
After the combined breast lift and implant surgery, it is essential to take proper care of your breasts to ensure proper healing and the best results possible. Your surgeon will provide you with detailed instructions on what to do during your recovery period.
One of the most important things to remember during your recovery is to rest and avoid any strenuous activity. You will also need to wear a compression garment to help support your new breasts and reduce swelling. Your surgeon may also recommend that you sleep on your back or with a pillow under your chest to help alleviate any discomfort.
You should avoid lifting heavy objects, driving, and engaging in any activities that may strain your chest muscles for at least two weeks after your surgery. Depending on your individual case, your surgeon may also recommend taking pain medication or antibiotics to help with your recovery.
You will also need to attend follow-up appointments with your surgeon to ensure that your breasts are healing properly. Your surgeon may recommend massages or exercises to help prevent scar tissue from forming around your implants.
As your breasts heal, it is essential to maintain a healthy lifestyle to ensure long-lasting results. This includes maintaining a healthy weight, avoiding smoking and alcohol, and wearing a supportive bra.
Contact Marietta, Georgia Plastic Surgeon Dr. Paul McCluskey at the Plastic Surgery
Institute

of Atlanta for a Consultation

For more information on procedures and treatments offered by Plastic Surgeon, Dr. Paul McCluskey and the Plastic Surgery Institute of Atlanta, visit:

Serving patients in and around Marietta, Atlanta, Roswell, Sandy Springs, Alpharetta, Buckhead, Morningside/Lenox Park, Virginia-Highland, Candler Park, Midtown, Inman Park, Poncey-Highland, Ormewood Park, Georgia and other surrounding areas.